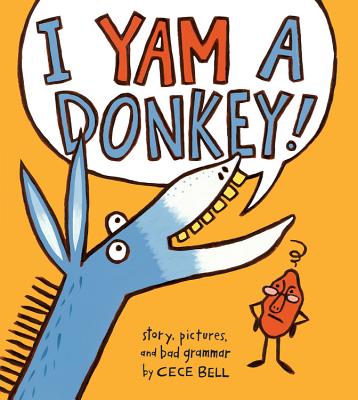 I am. You are. He is. She is. What do you get when you mix one donkey with poor grammar and a yam who insists on proper speech? I YAM A DONKEY, (Clarion Books, 2015) by Cece Bell, that's what.
This picture book is the most hilarious conversation/grammar lesson you've ever seen. Kids will Hee Haw at Donkey's antics and poor Yam's attempts at making himself understood. This is word play at its finest!
Enjoy some silly grammar fun, courtesy of Houghton Mifflin Harcourt, with these cool downloadable stickers of Yam and Donkey. (Print your stickers on Avery 5165 full page labels.)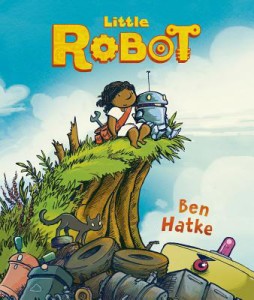 LITTLE ROBOT  by Ben Hatke (First Second Books, 2015)
A young girl comes across a small, toddler-like robot in the middle of the woods and a unique friendship is born. Throw in a large, menacing-looking "Locate and Recover" robot, and the new friends are going to have to put their "heads" together in order to escape danger and come out on top.
This story is richly layered with gorgeous, often wordless, color panels. Of course, the minimal text makes LITTLE ROBOT an excellent choice for reluctant readers, but I am especially drawn to the opportunities the story offers for oral language development. Not only can students tell the story in their words, but even the youngest readers can expand their attention to notice ways in which the art – color, value, changing panel sizes, etc. – mirrors the pacing and reflects the emotional temperature of the story.
Interested in reading more about using students' visual vocabulary as a learning tool? Check out this article,  "The Case for Graphic Novels in Education" by librarian Jesse Karp in American Libraries.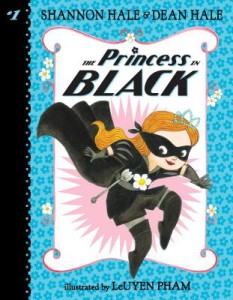 THE PRINCESS IN BLACK (Candlewick Press, 2014)by Shannon Hale and Dean Hale, illustrated by LeUyen Pham.
Who says princesses don't wear black? Or that boys won't read such books?  Shannon and Dean Hale, that's who. This first book in a new series for young readers is perfect for boys and girls.  In fact, Shannon Hale and some of her author colleagues have more than a few things to say on the topic in this SLJ article titled "When Boys Can't Like 'Girl' Books.'"
During a school visit earlier this year, Shannon shared the first few chapters of the book along with slides of the illustrations. After the program, a young boy hung around. He wanted a copy of the PRINCESS IN BLACK, but felt uncomfortable asking about it in front of his peers. Read No Boys Allowed: School visits as a woman writer and then get ready to share the book with any child, boy or girl, who wants to read it.
From the flap copy:
Princess Magnolia is having hot chocolate and scones with Duchess Wigtower when…Brring! Bring! The monster alarm!
Stopping monsters is no job for prim and perfect Princess Magnolia. But luckily,Princes Magnolia has a secret: she's also the Princess in Black, and stopping monsters is the perfect job for the Princess in Black!