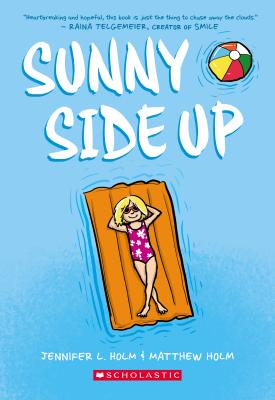 Sunny Side Up by Jennifer L. Holm & Matthew Holm
Sunny's parents are sending her to the Sunshine State to spend the summer with her grandfather and she doesn't know why. He lives in a 55+ community where there are no kids, no pets, and by all accounts, no fun. Sunny had hopes of trips to Disney World and a summer full of amusement park fun. Instead, all she gets are boring visits to the post office and grocery store.
Fortunately, Sunny runs into Buzz, the son of the Pine Palms groundskeeper. He's about her age and introduces her to comic book super-heroes, golf ball eating crocodiles, and a few money-making jobs helping the elderly residents. From the outside, things are mostly looking up.
But under the surface, Sunny is still struggling. Why did her parents stay home and send her to spend the summer with her grandfather? A series of flashbacks builds the tension and provides insight – her older brother has been getting into all sorts of trouble and, though nobody talks about it, the family secret is taking its toll.
This important book tackles a very real and difficult situation in a gentle, but honest way. An authors' note at the end of the book states, "Like Sunny, we had a close relative who had serious issues with substance abuse. As children, we were bystanders to this behavior and yet it affected our whole world… We wrote this book so that young readers who are facing these same problems today don't feel ashamed… It's okay to feel sad and confused and to need some help. And it's definitely okay to talk about it."
Share this book with those young readers who might be dealing with similar situations. There's courage and hope in knowing you're not alone.