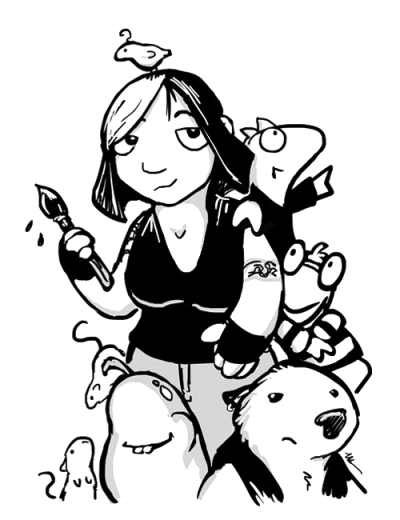 Illustration by Ursula Vernon
Earlier this week, ReaderKidZ introduced Ursula Vernon's hybrid graphic novel, Harriet the Invincible to our readers. Today, Ursula's here to talk about more about this new series and her life as a writer/illustrator.
RKZ: I'm a fan of your Dragonbreath series and now have a new love – Harriet! Her dry sense of humor; the fact that she is "brave and intelligent" and excels in "traditional hamster princess skills, like checkers and fractions"; and the way she and her "qwerky" side-kick, Mumfrey tackle each new adventure with gusto. How does it feel to have a new series and new characters to follow? You've written elsewhere that working on these comic hybrids can be a lot of work. And yet… you've launched what is sure to be another very successful series. How do you do it? And in what way do you think the Harriet books might bring something slightly different to your readers?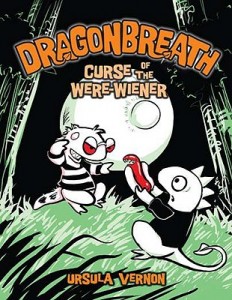 UV: *laugh* I certainly hope they're successful! I'm thrilled to have a new character to work with, particularly in a fantasy world. I loved working on Dragonbreath, but I was sometimes frustrated at things I couldn't do while keeping it anchored in the real world. But Harriet's world is strange and fantastical and riddled with fairy tales, so if I want to put a giant beanstalk in it or a pack of mermaids or something, I can. I'm looking forward to it!
As for how I do it…well, part of it is a fairly strict schedule—I write a thousand words a day, I draw two illustrations a day, day in and day out. And part of it is that my editor and my art director and I have done so many of these books now that we're good at it and a lot of the bumps in the process have gotten smoothed out.
RKZ: At the end of the first book in the series, Harriet and her new friend, Wilbur (a…shall we say?… less than competent prince), are off to slay an ogre. What can readers look forward to in the second book?
UV: The second book is called "Of Mice and Magic" and in it, Harriet encounters twelve mouse princesses under a curse that makes them dance all night. But the Mouse King is a rather peculiar individual, and the curse may not be the worst thing going on, so it's up to Harriet to save the day!
RKZ: In addition to being an author and illustrator, you have a degree in anthropology; you're an avid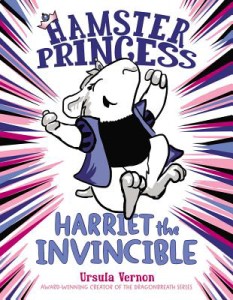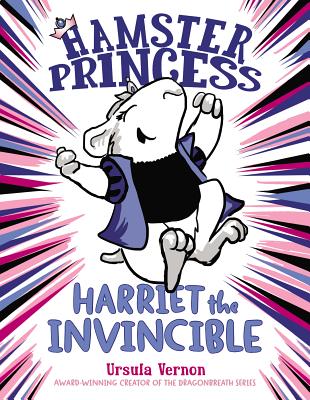 birdwatcher, a gardener, an amateur thrower of pots, and the daughter of an artist. Quite the eclectic background! You are obviously one busy person! How do you fit it all in? Any advice you can give to kids who, like you, find themselves drawn in multiple directions?
UV: I am very lucky to be able to do so many things that I love! One of the downsides, though, is that I start to feel guilty when I neglect any one thing. When I'm on book tour, the garden gets very weedy, and when I am trying to hammer out illustrations for one of the books, I don't do a lot of art for myself—and if I go off after a rare bird, I'm playing catch-up for days. So there's a lot of juggling. But again, a pretty solid schedule helps.
RKZ: Speaking of your many talents, what's growing in the garden right now? And what about that saltwater reef tank? Any other special talents readers might be interested in?
UV: Alas! The reef tank I had to break down awhile ago—we got an infestation of a weird little thing called a digitate hydroid, which is like a jellyfish with one strand that locks onto a rock. They can pack a nasty wallop! And as I travel more, it got harder to stay on top of.
I have gone to less fragile hobbies, which aren't in danger if I'm out of town for a week or two. Gardening is great for that! The garden is full of fall flowers right now, and lots of bees. My latest obsession is photographing moths at the porch light and sending the photos off to be identified. I've catalogued over 500 species in the garden, which is pretty cool. And there's still lots of video games to play, so I'm rarely bored!
RKZ: Thanks, Ursula!