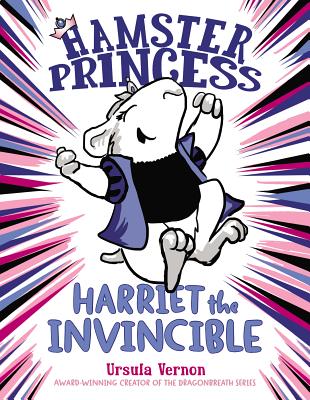 Harriet Hamsterbone is a brave, intelligent princess who excels in "traditional hamster princess skills, like checkers and fractions" but who is not very good at other princess tasks like "trailing around the palace looking ethereal and sighing a lot." She loves her quail "steed," Mumphrey. Together, they ride all over the countryside, pretending to slay monsters.
Unfortunately for Harriet and her parents – the king and queen – a dark cloud looms over the kingdom. On the occasion of Harriet's christening at twelve days old, the wicked fairy, Ratshade, cast a spell. The curse? Harriet will prick her finger on a hamster wheel on her 12th birthday and fall into a death-like sleep.
Though three fairy god-mice are called in to change young Harriet's fate, the best they can do is slightly alter the consequences. As far as the king and queen are concerned, this is not the best news. Harriet thinks differently. She's invincible and plans to take full advantage! "Until I'm twelve, nothing can touch me!"
Eventually, the fateful day finally arrives. Ratshade appears to make sure all goes according to plan. But Harriet has other ideas and… Hyaaaaaah! She grabs the wicked fairy, whips her around,  and charges the hamster wheel.  Ratshade pricks herself and falls into a deep sleep, along with all the others in the palace. Harriet and Mumphrey are left to break the spell and save the kingdom.
A wonderful reimagining of Sleeping Beauty, Harriet the Invincible by Ursula Vernon is a new hybrid graphic novel, with belly laughs and serious fun. Young readers will not want to miss this first book of the series by the author of the very popular Dragonbreath!
Check back in with ReaderKidZ on Thursday for an interview with author, Ursula Vernon.