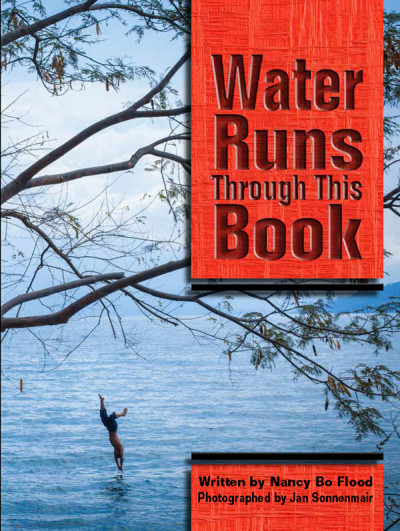 Cowboy Up! author Nancy Bo Flood and photographer Jan Sonnenmair have partnered together once again to craft another incredible book. Their latest, Water Runs Through This Book (Fulcrum) is an active, vibrant, and poetic celebration of an element that is essential to all of life – WATER!  Young readers will learn that water molecules are on the move. That the molecules evaporating from a mud puddle on the sidewalk very may have been a dinosaur's drink. And, that molecules in a drip from an icicle and a bead of sweat may have originated from a water fountain spraying from the other side of the planet. Oh, the wonders of the water cycle – evaporation, precipitation, accumulation and condensation.
Bo Flood's prose paired with Sonnenmair's photographs make Water Runs Through This Book a heartfelt message of gratitude for all of life. Dry scientific aspects of this book are softened by their intent to present this message on a personal level, one that will inspire young people to become caretakers of our watery and wonderful planet.
Nancy Bo Flood is offering a free, downloadable educational activity guide. In it is a game that will have students moving about like raindrops dancing on a roof top, as well other writing prompts and engaging activities.
Leave a comment below and be entered for chance to win a copy of Water Runs Through This Book.