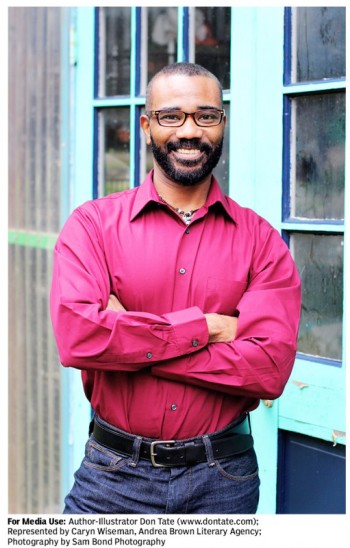 It's a pleasure to welcome Don Tate back to ReaderKidZ to talk about his newest book, POET: The Remarkable Story of George Moses Horton. (Find a review HERE.)
RKZ: POET marks an important milestone in your children's book career. It's the first book you both wrote and illustrated. Congratulations! Were there challenges that were unique to this project? How did you approach the work? Words first? Illustrations first? Or a mix of the two?
DT: I begin with words. I do my research so I'll know what I'm writing about, but I need a narrative to guide the visuals. That said, I'm always aware of what the visuals might be—because the visuals also guide the narrative. Therein lies my challenge, finding the right balance between words and pictures, knowing when to let one or the other lead the story or stand alone. Once I have a fairly concrete draft, I'll do some sketching, which then throws everything out of whack. That balancing act again.
RKZ: Teachers often ask their students to revise their writing, but I don't think a lot of kids realize that illustrators revise their work at least as often as writers do. In an interview with Julie Danielson of Seven Impossible Things Before Breakfast you talk about the revision of the art for POET. Can you talk more about that process? Did you find yourself going back to your research as you worked on illustrations? Or revising the text once the images were blocked out? How did the process work for you?
DT: I constantly revise my sketches. I work very loosely so that re-sketching is a bit less painless.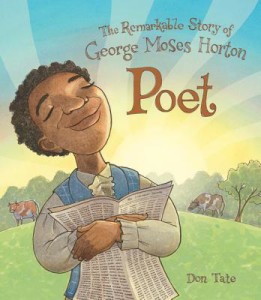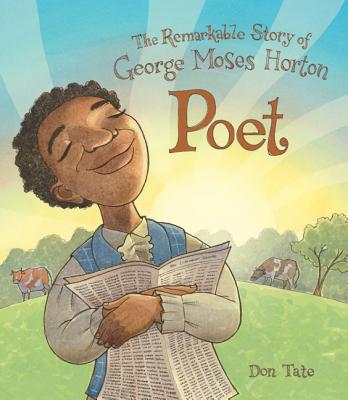 But I won't hesitate to revise a tightened sketch that isn't working. With Poet, I sketched out the book with pencil on paper. Halfway through the process, I got a new tool: a Cintiq, a computer monitor that allows me to draw directly on the display surface. This makes revision even more painless—and, heck, fun! As far as research, it never stops until the book goes to print. For instance, with Poet, my research revealed George's love for singing lively songs while he tagged along behind his mother as she worked in the hot tobacco fields. So I opened with a scene like that, with George about 6 to10-years-old. It was my and my art director's favorite scene in the book—in fact, they wanted to use it on the cover. Later, while double-checking my timeline and looking closer at my research, I came to realize the scene was all wrong. George's family got out of the tobacco farm business when he was a toddler. I had to do a new scene.
At a certain point, however, the images need to be finalized. After that, I still continue to polish my word and phrase choices, careful not to let those changes affect the content of the art.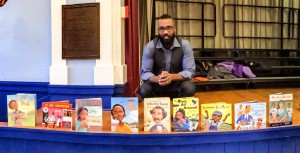 RKZ: In the fall of 2014, you won the SCBWI Book Launch Award for POET and have joined with two other authors whose books you've illustrated (THE AMAZING AGE OF JOHN ROY LYNCH, by Chris Barton and HOPE'S GIFT by Kelly Starling Lyons) to create THE FREEDOM TOUR. Tell us about the tour. How's it going?
DT: Having written and/or illustrated three books with inspirational historical figures who were once enslaved, I decided to take these books on the road and promote them together. Chris Barton and I spoke earlier this year at the Fay B. Kaigler Children's Book Festival in Mississippi. Kelly Starling Lyons and I toured DC schools where we spoke to children about our book. We also did a live taping with RIF. Last week, I toured North Carolina schools. The Freedom Tour has been a huge success. I'm looking forward to the next stop, which will take place in Austin next month, as we launch Poet and Amazing Age. On the tour, we celebrate wonderful stories of survival, resilience, and overcoming tremendous obstacles in the face of adversity.
RKZ: The Author's Note at the end of POET gives readers a peek at your journey as a writer and illustrator of books for children. What's next? Can readers expect more stories about the remarkable lives and times of historical people?
DT: Definitely. Next up, another collaboration between Chris Barton and I. WHOOSH! LONNIE JOHNSON'S SUPER STREAM OF IDEAS will publish next May, 2016. In my future, I have books that I've written and/or illustrated about a famous muscleman, a freedom fighter, the inventor of Black History Month, and the originators of jazz music!
RKZ: Thanks, Don, for offering readers a wonderful peek into your process and work. 
Be sure to check out other ReaderKidZ reviews of Don's books:
IT JES' HAPPENED: When Bill Traylor Started to Draw, by Don Tate, illustrated by R. Gregory Christie
THE CART THAT CARRIED MARTIN by Eve Bunting, illustrated by Don Tate
HOPE'S GIFT by Kelly Starling Lyons, illustrated by Don Tate
SHE LOVED BASEBALL: The Effa Manley Story by Audrey Veronica, illustrated by Don Tate
RON'S BIG MISSION by Rose Blue and Corinne J. Naden, illustrated by Don Tate