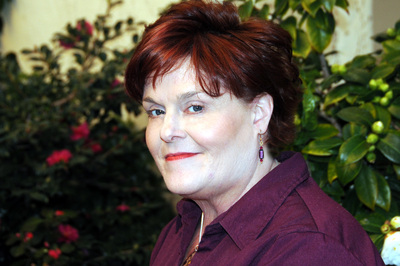 It's a pleasure to welcome author Rebecca Langston-George to ReaderKidZ to talk about her newest book, For the Right to Learn: Malala Yousafzai's Story.
RKZ: As both a teacher and writer, I'm sure you'd agree that biographies are one of the most powerful ways younger students learn about the lives of others in our world. What was your approach as you sat down to write Malala's biography, which is a story of triumph, but also of extreme adversity? How did you navigate the balance between some of the more difficult events in Malala's life and the positive message of peace and education for all for which she's known?
RL-G: Three words guided me as I wrote For the Right to Learn – Malala Yousafzai's Story: bravery, determination and education. I did not want children to read Malala's story and feel sorry for her. I wanted them to be inspired to bravely speak up for their beliefs and determined to achieve their own goals.
As a teacher, I hope my readers will also consider the important role education plays in their lives. Unlike many countries, we in the U.S. are fortunate to have free compulsory education. But, that which is free is all too often undervalued. I had the privilege of hearing Malala speak this summer in Santa Barbara. She told the audience she has had to cut back on her speaking engagements because they interfere with her school schedule and she can't be the voice of education if she doesn't take her own education seriously. Even Nobel Peace Prize winners have to go to school and do their homework!
RKZ: Malala's story is perhaps unusual in that she's a contemporary figure who is just a few years older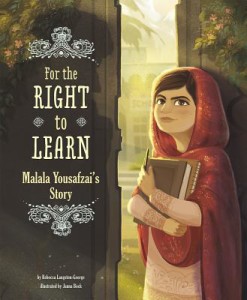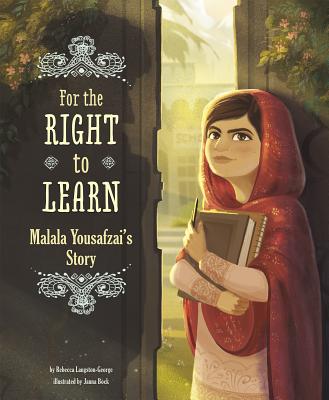 than the students who will read FOR THE RIGHT TO LEARN. How did knowing your book was targeted to a younger audience influence the writing? As one of several books in Capstone's Encounter: Narrative Nonfiction Picture Book series, were there certain parameters that guided the writing?
RL-G: It's important for Malala's story to be accessible for young readers as she has so much in common with them. Yet, picture books containing assassination attempts on the main character are extremely rare for a good reason. I had to balance the requirement to be factual against the need to not dwell on the violence. The page in which Malala is shot is covered in just five words and illustrated by Janna Bock with a simple but stark image of a dropped book. The adage "more is less" was definitely on both our minds.
As for the other books in the Encounter line, I am looking forward to reading them. I actually didn't know any specifics about the other books in the line while I was writing mine. For parameters I had a target word count, number of pages and a reading level.
RKZ: It occurs to me that your process in researching and writing FOR THE RIGHT TO LEARN might have been, in at least some ways, similar to that used by students who've been given an assignment to write about a famous person. Any tips for writing narrative nonfiction that you can pass along to students?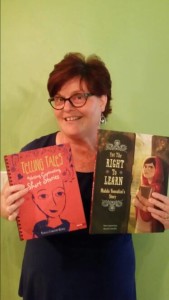 RL-G: From the moment I first read a newspaper account of Malala's shooting I knew I wanted to write about her, so when the opportunity presented itself I jumped at the chance. Although it was a subject I wanted to explore, it was very much like a school assignment in many ways. I had to read several books and newspapers, carefully take notes and document sources. The deadline was very tight, and I had to do several drafts before my editor gave it a passing grade. Then when it was announced that Malala was a co-winner of the Nobel Peace Prize I found out I had more homework to do.
 For anyone wanting to write a biography my advice is to choose a person who really interests you and about whom you would like to learn more. Don't just cover the person's life sequentially from birth to death; instead, find an interesting life event to start with. It's okay to move back and forth in time. I started with Malala's Nobel Prize acceptance and then moved back in time to when she started school. Come up with a theme or key words that will guide your telling like I did with bravery, determination and education.
RKZ: What can your readers look forward to in the next year? Are there new writing projects on the horizon?
RL-G: In addition to the Malala book I have another book that came out last month. Designed for young people who want to write fiction, it's called Telling Tales: Writing Captivating Short Stories. For fall 2016 I have a non-fiction chapter book about the orphan trains coming out.
Rebecca Langston-George is an elementary school teacher who reads books to children by day and writes books for children at night.   She's the Assistant Regional Advisor for the California Central-Coastal region of SCBWI. Like Malala, she believes "One child, one teacher, one book, and one pen can change the world."  For the Right to Learn: Malala Yousafzai's Story (Capstone Press) is Rebecca's fifth book.