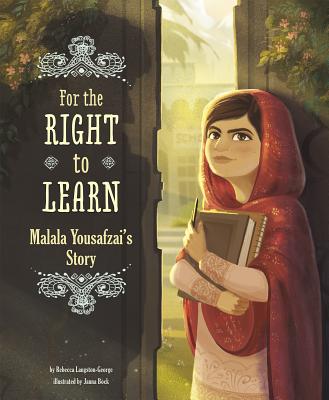 It's not often that young readers have a chance to learn about another young person, just a few years older than they – a girl who was not afraid to stand up to the injustices in her world. A young woman who has shown remarkable bravery in the face of a difficult and dangerous world.
For the Right to Learn: Malala Yousafzai's Story by Rebecca Langston-George, illustrated by Janna Bock (Capstone Young Readers, 2015) shares this story in a way that is engaging and appropriate for elementary-aged students. The book begins: "Scarcely 5 feet tall and only 17 years old, a schoolgirl from Pakistan stood before the microphone. Her courage was legendary. World leaders leaned forward to listen… In her home country, a female could be beaten for public speaking. But Malala was not afraid. Strength, power and courage pulsed inside…[she] lifted her voice for children everywhere."
Malala's story is full of dark moments. Members of the Taliban intimidating school leaders. Bombs falling in the night. And of course, the fateful day in 2012 when a gunman boarded the bus Malala was riding, asked for her by name, and fired the three shots that sent her, in critical condition, to the hospital.
But in the capable hands of Langston-George, these moments are handled with the utmost care. Students will understand that Malala's road to recovery was not an easy one. But they will also understand that "Bullets did not silence Malala for long."
In Malala's own words, from the speech she delivered before world leaders at the United Nations on July 12, 2013: "One child, one teacher, one book, and one pen can change the world."
It's my hope that this powerful and accessible book finds its way to public and elementary school libraries everywhere.
Later this week, be sure to return to ReaderKidZ to learn more about author Rebecca Langston-George and the writing of For the Right to Learn: Malala Yousafzai's Story.
Pair this book with two others, also appropriate for elementary-age students: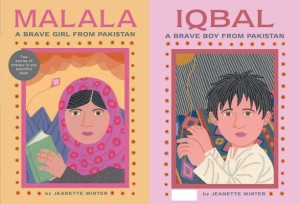 Malala, a Brave Girl from Pakistan/Iqbal, a Brave Boy from Pakistan: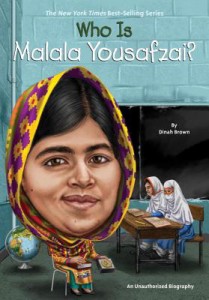 Two Stories of Bravery by Jeanette Winter (Beach Lane Books, 2014)
Who is Malala Yousafzai? by Dinah Brown (Grosset & Dunlap, 2015)
On December 10, 2014, Malala, the youngest-ever Nobel Prize laureate, shared the Nobel Peace Prize with Kailash Satyarthi for their role in the fight to overcome the suppression of children and young people and for the right of all children to education. Listen to Malala's elegant 2014 Nobel Peace Prize speech: