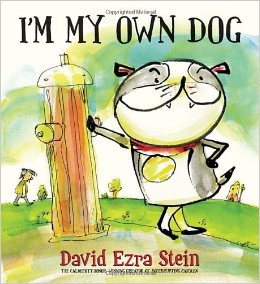 For the youngest readers:
I'm My Own Dog by David Ezra Stein, 978-0763661397
The little bulldog in this picture book tells a story of his independence until a human follows him home one day.  David E. Stein spins a story full of humor and a twist on canine companionship from the dog's perspective. With humorous pages like, "I work like a dog all day," showing the bulldog digging in the yard, or "I fetch my own slippers," Stein renders the dog's-eye-view of life.  Portraying the joys of owning a dog, Stein shows why a dog can be your best friend if you let him.
For transitioning readers: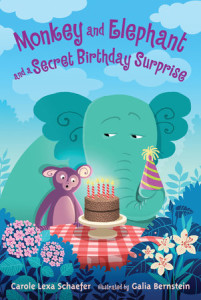 Monkey and Elephant and a Secret Birthday Surprise by Carole Lexa Schaefer and Illustrated by Galia Bernstein, 9780763661311
Monkey has a secret, please don't tell anyone!  Today is his birthday and he doesn't want anyone to know about it.  Elephant is his best friend but this could cause problems since he's terrible at keeping secrets.  The round-robin story follows both Elephant and Monkey as they try to honor their word.  Kids will enjoy the lush, tropical illustrations that capture the animals' personalities with deft touches. Such as Elephant's face peering out his window when he's trying to keep Monkey's birthday a secret and avoid meeting anyone.  Then there's Clever Rat who's brightly colored party hats make a festive background for the "It's-Not-My-Birthday cake." This is a tale of friendship that's great for beginning chapter book readers.
For older readers: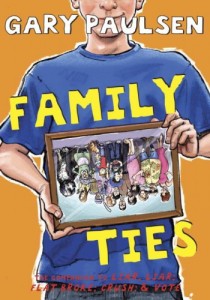 Family Ties by Gary Paulsen, 978-0385373807
Kevin is proud of his new girlfriend Tina and sets out to impress her with his ability to help his family plan a backyard wedding in Family Ties.  Nothing could possibly go wrong with thirteen people sleeping in their house, a dog with a weak bladder, an alarming list of "to-dos" like baking the wedding cake and don't forget school projects all due this week, right? Kevin handles the family stress with humor and with a desire to please that is hilarious to read!  Anyone who has helped organize a family celebration where mishaps ensue will appreciate Kevin's wacky family.
Megan Poynter Fink is a middle school librarian at Charlotte Country Day School. She began her career working in publishing and for the New York Public Library. She is an active member of YALSA and has served on YALSA's Award for Excellence in Nonfiction for Young Adults, Teen Read Week and Best Books for Young Adults committees. Megan has written for VOYA and BOOKLINKS magazines. She enjoys cooking, Zumba classes and city adventures in Charlotte, NC.