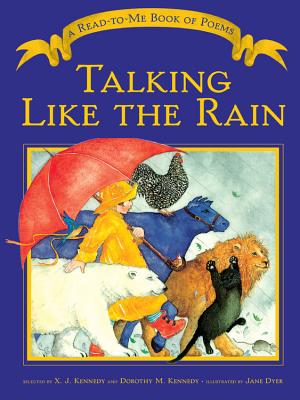 In a recent blog post, poet Janet Wong wrote:
Find your voice, people say. Your voice, as if you have only one. The problem with most writers is that we have several voices shouting in our heads. The silly voice? The sad voice? Dr. Seuss or Sylvia Plath? Which one to choose?

For a writer who is starting a new project—any kind of writer and any kind of project—I suggest finding a voice in an anthology. Spend five minutes flipping through a thick book of poems quickly, as if you were scanning the room at a cocktail party to decide which group to join.
I love this idea. Not only because I'm a writer who loves poetry, but also because I think poetry anthologies can be especially easy and effective resources for parents, teachers, and librarians looking for ways to introduce students to the topic of "Voice."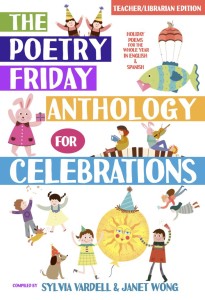 Start off with a new favorite, The Poetry Friday Anthology for Celebrations, compiled by Janet Wong and Sylvia Vardell. Then move on to three "old favorites" – collections I return to over and over:
Talking Like the Rain: A Read-to-Me Book of Poems selected by X. J. Kennedy and Dorothy M. Kennedy, illustrated by Jane Dyer.
From the description: "This fine collection includes over one hundred classic children's poems, all divided into familiar subjects such as "Birds and Beasts," "Wind and Weather," and "Just for Fun." With soft, cheery watercolor illustrations by Jane Dyer, Talking Like the Rain is the perfect way to introduce even the youngest of readers to the art of poetry, and is sure to be treasured by families for years to come."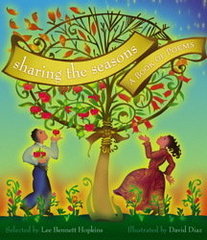 Sharing the seasons: A Book of Poems Selected by Lee Bennett Hopkins, illustrated by David Diaz
From the flap copy: "In this sparkling collection of classic quotations and forty-eight poems – twelve for each of the four seasons – readers will view the year in ways they never thought of before…
In addition to poems by masters such as Carl Sandburg, Richard Brautigan, Joseph Bruchac, and Karla Kuskin, twenty-nine poems have been specially commissioned from a host of contemporary poets…"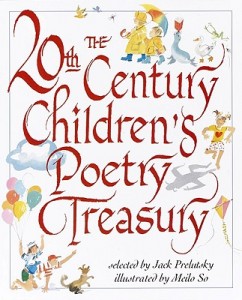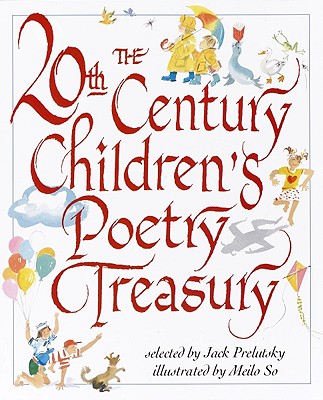 The 20th Century Children's Poetry Treasury, selected by Jack Prelutsky, illustrated by Meilo So
From the flap: "Here in one gloriously illustrated volume are 211 wonderful poems that represent the best of the twentieth century. From sibling rivalry, school, monsters, food, and just plain silliness to such ageless themes as the seasons, Who am I?, and the many moods of childhood, this is a collection that begs to be read aloud and shared with the whole family. The poems, from every decade of the last century, showcase 137 famous poets…"
What are some of your favorite poetry anthologies?