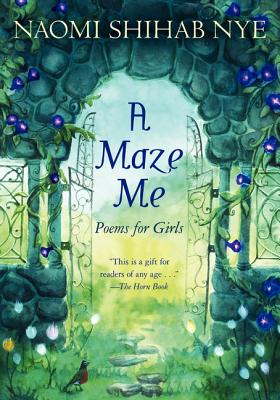 Nye's A Maze Me: Poems for Girls (Greenwillow Books, 2014) is a tender tribute to girls from the ages to 11 to 13, an honest study of a young girl's need to be heard. Regarding pre-adolescent girls, Nye states, "I want to talk to her. Ask her things. See what she is looking at, off beyond the world we can see together." To listen deeply, in order to learn completely, is the premise of this powerful little book.
The timeless poems in this collection meet the needs of a girl in the upper scale of the ReaderKidZ age range, as well as the adults who care about her. The poems are communal; they are intended to be shared by all types of women – young and old – questioning the world they share together.
Please,
Live with me in the open slope
Of a question mark.
Don't answer it!
Curl up in a comma
That says more, and more, and more…
~ Naomi Shihab Nye (pg. 22)