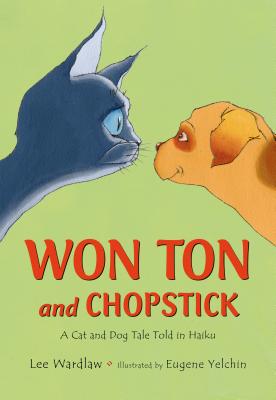 Won Ton and Chopstick: A Cat and Dog Tale Told in Haiku by Lee Wardlaw and Eugene Yelchin (Henry Holt and Company 2015), is the charming companion book to the award-winning Won Ton: A Cat Tale Told in Haiku. As the sequel begins, Won Ton – a former shelter cat – has settled nicely into his new routines.
It's a fine life, Boy.
Nap,
play,
bathe,
nap, eat, repeat.
Practice makes purrfect.
But a surprise waits behind the nearest closed door. An eager puppy-pest, threatening to upset Won Ton's comfortable life:
Hey, Pest! Heed my hiss!
My blankie. My bowl. My boy.
Trespassers bitten.
Of course it takes a while for cat and dog to work out their differences but, little by little, they adjust. Won Ton admits:
Some parts of woof I
will never understand. But…
practice makes purrfect.
Told in senryu, a form of Japanese poetry similar to Haiku, WON TON and CHOPSTICK offers a fresh twist on the theme of "sibling" rivalry and "finding your place."
Enjoy the WON TON and CHOPSTICK Teacher's Guide, including suggestions for writing haiku/senryu from the point of view of another character.
Find a ReaderKidZ review of the first book, WON TON: A Cat Tale Told in Haiku  HERE.