For those who mistakenly believe that poetry is all about roses and violets and love (mushy!), here are some new earthy and brilliantly uncouth collections. No mush, just good (sometimes gross) giggles!
For the youngest readers:
Ode to a Commode: Concrete Poems written by Brian P. Cleary and illustrated by Andy Rowland (Millbrook Press, 2015) Yes, you'll use Cleary's explanation of how to write concrete poems as a great teaching tool, but make sure you read these fantastic poems with kids for sheer pleasure anytime. What kid wouldn't giggle over a toilet poem you have to turn in circles to read as it flushes?
For the transitional readers: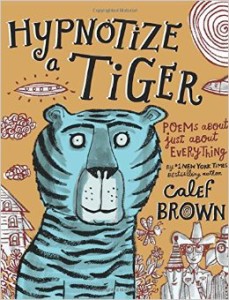 Hypnotize a  Tiger: Poems About Just About Everything  by Calef Brown (Henry Holt, 2015) Kids who love Shel Silverstein and Jack Prelutsky will gobble up this highly illustrated collection of odd poems. My favorite: Carsick. "Car rides have always/ been awful for me./ I try not to look/ but as soon as I see/ that the needle is pointing/ to forty-three/ on the ol' speedometer,/ I'm a vomiter."
For the older readers: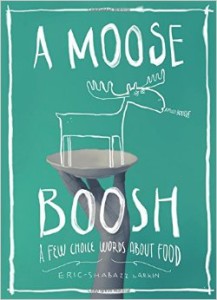 A Moose Boosh: A Few Choice Words About Food by Eric-Shabazz Larkin (Readers to Eaters, 2014) It's poetry, it's graffiti-ed photographs, it's genius. As the poet Larkin himself says, "Poetry is food for the soul,/ Food is poetry for the tongue./ So read a delicious poem/ That makes your soul feel young." Yummy and joyful, this collection will inspire kids to take selfies and food photos to a new, poetic level.