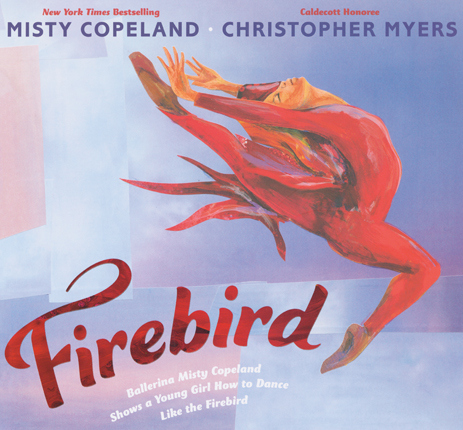 April is considered Poetry Month, but don't limit these gems to just 30 days – share them all year long!
For the youngest readers:
Firebird written by Misty Copeland and illustrated by Christopher Myers (Putnam, 2014) A little girl sees ballet soloist Misty Copeland and thinks "the space between you and me/ is longer than forever". Misty lets the girl know that with hard work and dedication "we'll make the night sky our starry curtain/ the moon our silver spotlight/ as we spin across the planets/ pirouetting tightly as the curls on our heads". Misty Copeland is the second African American soloist in the history of the American Ballet Theater, and her uplifting poem-story is perfectly enhanced by Christopher Myers' gorgeous art.
For transitional readers: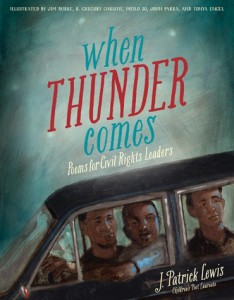 When Thunder Comes: Poems for Civil Rights Leaders written by J. Patrick Lewis and illustrated by Jim Burke, R. Gregory Christie, Tonya Engel, John Parra, and Meilo So (Chronicle, 2013) A Civil Rights Leader is anyone brave enough to stand up for equality. In this collection of poems you'll find not only Coretta Scott King and Jackie Robinson, but Aung San Suu Kyi from Burma; Dennis James Banks, an Anishinabe political activist; and Harvey Milk, who stood up for gay rights. I love the notes at the end that give a bit more information about each freedom fighter.
For older readers: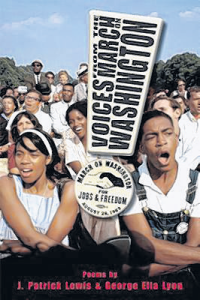 Voices From the March on Washington by J. Patrick Lewis and George Ella Lyon (Wordsong, 2014) The Civil Rights March of 1963 is made immediate and personal when told in first-person poems. Children and elders, male and female, black and white, all telling how this day of standing for freedom and equality changed them and our country. Powerful – and may inspire students to ask how they can work for justice in meaningful, peaceful ways.