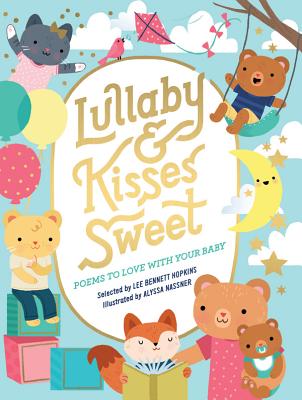 If you've somehow missed or misunderstood all the goodness that is poetry, don't wait a moment longer! Discover again, or perhaps for the first time, the lyrical language and rhythm of poetry rhymes. Start by introducing yourself and the young ones in your life to the wonderful world of words found in the following books for the youngest readers:
LULLABY & KISSES SWEET: Poems to Love with Your Baby, illustrated by Alyssa Nassner (Abrams Appleseed, 2015)
This collection of poems for babies and toddlers selected by Lee Bennett Hopkins – perhaps this generation's most esteemed anthologist of children's poetry –  is a delight! 30 short poems, organized into five themes – Family, Food, Firsts, Play, and Bedtime – are casebound in a gorgeous, keepsake-worthy board book. A wonderful gift for new parents, Lullaby & Kisses Sweet can also be read and enjoyed with baby's preschool and early elementary siblings.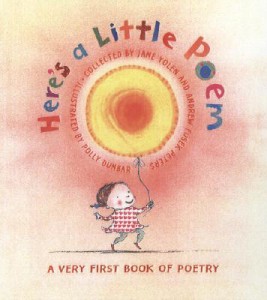 HERE'S A LITTLE POEM: A Very First Book of Poetry, collected by Jane Yolen and Andrew Fusek Peters, illustrated by Polly Dunbar (Candlewick Press, 2007)
This collection of more than 60 poems from poets such as A.A. Milne ("Halfway Down"), Langston Hughes ("Piggy Back"), and Margaret Wise Brown ("Bumble Bee") covers a day's adventures from dawn to dusk. Exuberant illustrations convey all the joy and delight of a young child's world.
Another Yolen/Peters collection you won't want to miss is SWITCHING ON THE MOON: A Very First Book of Bedtime Poems, illustrated by G. Brian Karas (Candlewick Press, 2010)
60 poems fill the pages of this exquisite collection – familiar ones such as "The Star" by Jane Taylor (more widely known as the song, "Twinkle, Twinkle, Little Star") and "The Man in the Moon" by Mother Goose, to others about bubble baths, and teeth brushing, snuggles, and stuffed toys; old favorites such as "Sweet and Low" by Alfred, Lord Tennyson and others from contemporary poets such as an excerpt from The Cozy Book, by former American Children's Poet Laureate, Mary Ann Hoberman.
This collection is the perfect way to end an evening and ensure a nighttime of sweetest dreams.