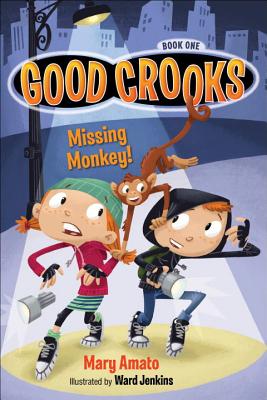 What's the Hold Up? The Good, the Bad, and the Stinky
We all know a life of crime doesn't pay. But it sure can be funny! What happens when parents-gone-bad try to raise twins-gone-good? You get family heists and zany adventures, that's what. We're thrilled to welcome poet, playwright, and songwriter Mary Amato, author of the Good Crooks series, illustrated by Ward Jenkins, as well as award-winning children's and young adult books, including The Riot Brothers series.
Mary got us off to a laughing good start with Good Crooks #1: Missing Monkey!
Then pawed her way through mayhem with Good Crooks #2: Dog Gone!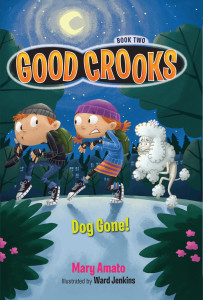 And her latest and furriest, Good Crooks #3: Sniff a Skunk! hits bookshelves on April 21st. Here's what Billy and Jillian are up to this time:
Twins Billy and Jillian want to be good, and that's a big problem. Why? Because their parents are crooks! In the third book of this hilarious series (for ages 7-10), the infamous parents, the Crooks, expect the kids to find a new place to rob. Instead, the twins discover a lonely little orphan skunk in need of help. Will they be able to rescue the skunk and keep their parents from pulling off the next heist? Will their new furry friend help by raising a stink? How can a good deed smell so bad?
FLH: Sniff a Skunk, Book 3 sure sounds smelly! What was your inspiration for this latest Good Crooks adventure?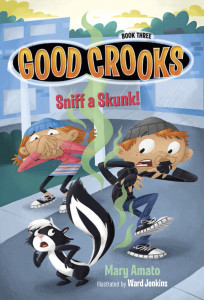 MA: Each of the Good Crooks books focuses on a good deed that the kids want to do. The first book involved helping with a clean-up day at the zoo; the second involved raising money for a dog shelter. For the third book, I wanted an animal that wasn't domesticated or in a zoo, so I played around with what wild animals I thought were cute. And who doesn't love skunks? I always try to look for fundamental contrasts, so the idea of a skunk that didn't know how to defend itself, that was too young to realize it had its own superpower came to me instantly.
FLH: Are twins Billy and Jillian based on anyone from your real life?
 MA: Real life is pretty boring. I must say that I've never known any crooks. I did get Billy's love for bacon from my son. When I took my youngest son to his pediatrician for his check-up at age five, the doctor asked him his favorite food, and my son quickly and loudly replied: "Bacon!"
FLH: I love how Billy and Jillian are always striving to do good deeds, while keeping their parents in line. How have your readers reacted to this role reversal?
MA: I think kids get a huge kick out of role reversals. Kids love the idea that the "homeschooling" lessons that the parents are trying to teach the kids are the exact opposite of what most parents want their kids to learn.
FLH: I see that Billy is very musical, as he sings or raps in the stories. And you also have songs on your website for Sniff a Skunk, and Dog Gone. How did these songs come about?
MA: I love writing songs and have put songs into many of my books. I sing at the drop of a hat and so many of my characters enjoy it, too. I also love to provide fun little extras, like the songs and games in the back of the Good Crooks books and my Riot Brothers series. It's like the surprise in the Cracker Jack box!
FLH: What's the key to writing a great adventure series and keeping readers on their toes?
MA: Humor is the key for me. I know other writers create great series that are educational or informational or that have a central mystery to be discovered. My youngest son and many of his friends wouldn't read a book unless it was funny. So I've tried to create kid characters who are inherently amusing. It isn't hard. Kids are hilarious.
FLH: What is most rewarding about writing the Good Crooks series?
MA: Getting notes from reluctant readers is the best. I've received many letters from kids who say that they didn't like to read…until they met Billy and Jillian. That's what it's all about.
Indeed, it is. Thanks for stopping by, Mary!
Frances Lee Hall Frances earned her MFA in Writing for Children and Young Adults from Vermont College of Fine Arts. She is the author of LILY LO AND THE WANTON MAKER. Find her at www.francesleehall.com and on Twitter @fleehall