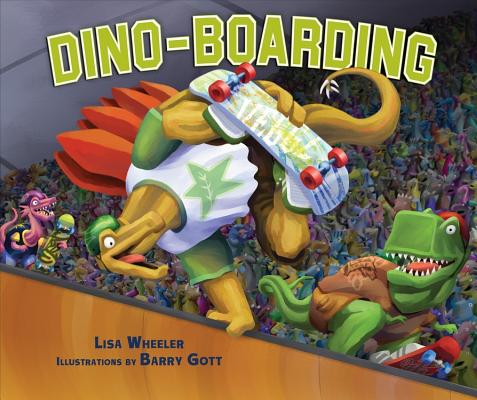 Lisa Wheeler's Dino Sports Series (published by Carolrhoda Books) is as action-packed as they come. Illustrator Barry Gott captures the play-by-play drama perfectly with his aerial shots, bench scenes, and officials straining to keep the games under control. Be it wrestling or soccer, hockey or football, basketball, baseball, and now skateboarding – any sports-loving kid will love these books.
Fans, there is so much more to the Dino Sports Series that one would think. Lisa has proven that jocks are anything but dumb. The history and nuances of each game are laced throughout each book. Lisa's lively poetry is loaded with rich vocabulary, perfect to toss around for a little make-it, take-it game of word play. To top it off, readers can access her website to score an Educator's Guide, packed with games, poetry and geometry lessons, and much more. Talk about an overtime win!
So, batter up, Reader! Let's get this game on! Play ball!