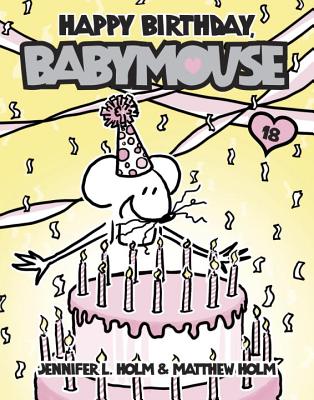 Looking for a good book? No matter if you are big or small, there's nothing better than finding the next book in a favorite series written by a favorite author. For readers in the early-elementary grades, one of the most popular – and delightful – series is the BABY MOUSE books written by Jennifer L. Holm and illustrated graphic-style by Jennifer's brother, Matt.
Try the newest award-winning, book number #18 in this series:  HAPPY BIRTHDAY BABY MOUSE.(Random House Books for Young Readers, 2014)
Already this book has been chosen by young readers as a 2015 Children's Choice Book award finalist.
The author, Jennifer L. Holm, is a three-time Newbery-honor award winner and for good reason, her books are wonderful. Jennifer and Matt are also the creators of the SQUISH series. My very favorite is one of Jennifer's first books, the historical novel for the middle-grade reader, OUR ONLY MAY AMELIA. Set in Washington in 1899 the reader follows the delightful story-telling of May Amelia Jackson, a pioneer girl with seven older brothers and a love for adventure and mis-adventures!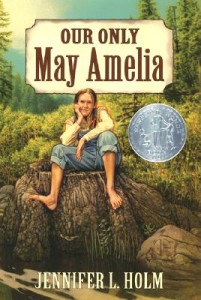 For more best-books, take a look at the whole list of this year's Children's Choice Book Awards Finalists.  Yes, you will find HAPPY BIRTHDAY BABY MOUSE and five books in each age category. These books have been chosen as "best" by the thousands of children who have read them. For more information and the full list of books, read more here:
Press Release: Eighth Annual Children's Choice Book Awards Finalists Announced:
http://mrschureads.blogspot.com/2015/02/press-release-eighth-annual-childrens.html?m=1
Looking for a series for the very young listeners? A new series just out are the PUMPKINHEADS board books, colorfully illustrated and simply written, but each tell an engaging story.
Each book has a simple value embedded within the story. A variety of child characters are each working through typical preschool child problems and concerns, for example: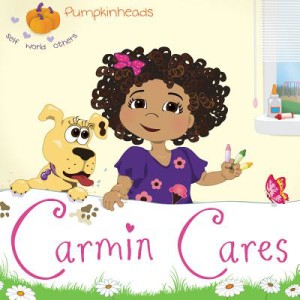 CARMIN CARES, (no littering, keep the playground clean), ELLA'S TOYS (and Ella does NOT want to share), LOVE MONSTER LULU who likes to tease the dog, chase the cat and make life rather annoying for everyone,  and SAGE'S SONG – fun to sing along, listen to the music all around you.
Each book is printed on kid-tough paper from sustainable forests. The books were created, written, and designed by Karen Kilpatrick and illustrated by a variety of Pumpkinhead storyboard artists, Matthew Wilson and Tara Campbell leading the way. The Pumpkinhead website link is http://www.pumpkinheads.com/