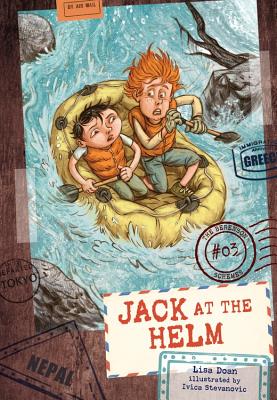 Jack's scatterbrained parents did it – again. Hilarious action and dangerous rapids rule the day in Jack at the Helm (Darby Creek Publishing) by Lisa Doan, the third and final book in the Berenson Schemes Series.
The Berenson's high hopes to make their fortune while not losing Jack – once again – to fend for himself in a foreign territory, fail. Plans are for Jack's parents to become co-Dalai Lamas of Nosnereb, their newly created religion (Nosnereb is Berenson spelled backward) and to purchase a monastery in Shangrilala, Nepal. However, after a series of unfortunate events, Jack is stranded and forced to survive the treachery of the rugged Himalayan River. But this time, things are different.
Reluctant readers are sure to be with Jack every step of the way as he climbs onto a beaten-up old raft and goes down-river to battle crocodiles, rocks, and rapids in search of his missing parents.