DOOBY DOOBY MOO by Doreen Cronin and Betsy Lewin (Atheneum Books for Young Readers, 2006)
When farm animals make their way into a picture book, you can usually be certain that good fun's ahead. When those animals happen to be the notorious Duck, Sheep, and Cows from Cronin and Lewin's CLICK, CLACK, MOO: Cows That Type, you can be assured of plenty of giggle-worthy shenanigans. This time, Duck has his eye on winning 1st prize at the county fair talent show – a (slightly used) trampoline. With deadpan humor and Lewin's comical illustrations, DOOBY DOOBY MOO is another winner by this talented author/illustrator duo.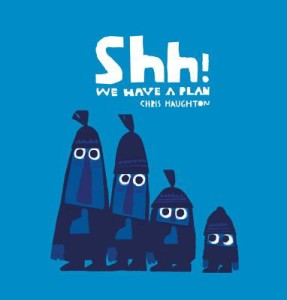 Shh! We Have a Plan by Chris Haughton (Candlewick Press, 2014)
Four figures make their way through a nighttime forest until…"Look! a bird."  When the smallest one calls out, "hello, birdie" the other three are quick to reprimand – "shh…SHH!…we have a plan." Quietly the three approach the brightly colored bird. "ready one… ready two… ready three…GO!" While the three land in a big tumbly mess, the bird easily escapes. And so it goes as the foursome follow the bird up a tree and over a river, each time with similar results. But the littlest one really does know what he's doing.  Offering a handful of bread, it isn't long before he's surrounded by not one, but dozens of birds. The three pull out their nets for one last "ready one… ready two… ready th… RUN AWAY!" Off they go again, angry birds on their heels. Until… "Look! a squirrel…SHH! we have a plan." Bold, colorful illustrations add to the visual humor and make this a book kids and adults will enjoy reading over and over again.