A new, wonderfully silly, hot-off the award lists picture book is KID SHERIFF AND THE TERRIBLE TOADS, written by Bob Shea and Lane Smith. Toad problems in Drywater Gulch! Serious toad problems: "thievin', lootin', and hollerin/, steal-your-gold never-say –thank you outlaw toad problem." Hope for Dry Gulch arrives in the boots of Sheriff Ryan, a bit young you might think, seven years old, but he knows dinosaurs. Yes, dinosaurs and paleontology. Knowing paleontology turns out to be exactly what is needed. You got to read it to believe it.
GOOD NIGHT LOON is a just plain silly,  tummy-laughing-till-hurting delight.
We all can close our eyes and see the soothing, green pages of GOOD NIGHT MOON.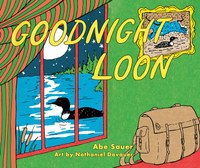 GOODNIGHT LOON by Abe Sauer and illustrated by Nathaniel Davauer is a north woods silly-giggly version with a Big Blue OX jumping over the loon watched by three fat walleyes eating rhubarb pies. Don't worry, there's Tater Tots for those not excited about rhubarb. GOOD NIGHT LOON is fun for the big folks and ancient voyageurs who enjoy reading between loony lines.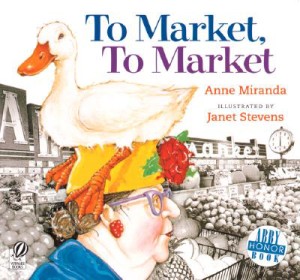 Now we know what the North Folks do during those long, dark snow-covered winters.
And one more for giggles and laughs. My very favorite picture book that makes me laugh out loud even after a zillion readings is – TO MARKET, TO MARKET written by Anne Miranda and illustrated by infamously-delightful, Janet Stevens. Two terrific imaginations have created page after page of hilarious words and images. "To market, to market to buy a live TROUT. Home again …Uh-oh! The goose was let out."   The pigs in the frig, the hen's in the oven…and where's that lamb now?
Try it, you'll love it!