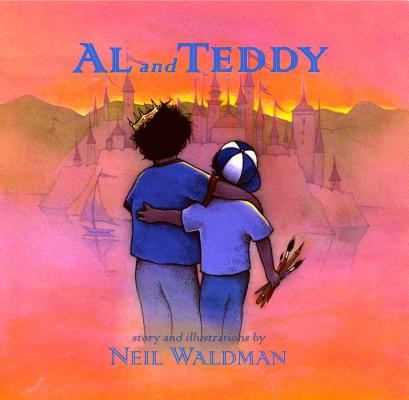 Let's Laugh! Fun and funny times with friends, brothers and sisters.
AL and TEDDY, written and illustrated by Neil Waldman, captures the up-and-down relationship between big brother Al and little brother Teddy. Anyone who has grown up with a sibling or is parent to siblings knows the good times, fun times, and frustrating times shared by brothers and sisters.
Teddy gazes at his big brother's drawing and smiles.
"Maybe someday," he muses, "Big Al just might take me flying with him!"
But big brother Al is often not wanting his kid brother to come along on his real or imagined adventures. We all know that younger siblings can be a pain in the neck. Sometimes fun dissolves into jealousy, frustration and hurt feelings. Sometimes laughter turns to tears. Sometimes words get shouted… "you're nothing but a BIG FAT LIAR!"
And sometimes forgiveness replaces anger and hugs replace tears. And one gets to have fun and fly!
 "You're my big brother. I love you more than any old horse! Could you make me one more picture?"
Al went over to his desk, took out two pencils and handed one to me.
"So Prince Teodoro," he said, with a smile as big as Saturn,
"wanna fly?"
 A special story is part of the "before the book." The author and illustrator Neil Waldman, besides having created more than fifty books for young people and having won many awards, including the Christopher Award and the Parent's Choice Award, created a place for young Bronx artists to reach their dreams. In 2006, Neil founded the Fred Dolan Art Academy, a free Saturday program for young local artists, designed to help them go to art college. Already over twenty students have graduated. Each of them received scholarships to begin their college careers.
 AL and TEDDY was awarded the SCBWI (Society of Children's Book Writers and Illustrators) Spark Award, given annually to recognize excellence in a children's book published through a nontraditional publishing route. AL and TEDDY was published through funds raised through the crowd-funding platform Kickstarter. Waldman raised over $6000. – half of the amount needed to publish this picture book. Now for every book sold, half of the profits ($5.00) support the Fred Dolan Academy. The book's earnings has provided a quarter of what is needed to keep the Academy running for a year! Watch a trailer that takes you inside the magic of Waldman's paintings. Buy a copy of the book. Enjoy this heart-warming story – full of fun imagination – and support Good Works. Amazing what one individual can do, combining creativity and persistence to make our world a better place.