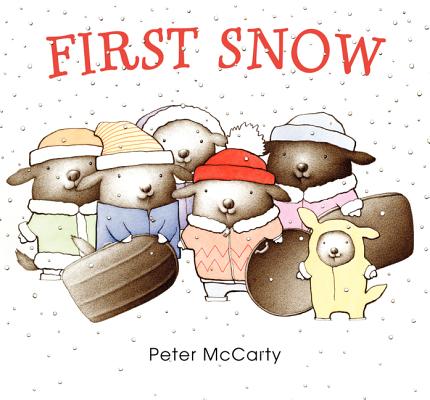 Let it SNOW, SNOW, SNOW-BOOKS!
Here, there, everywhere –
And while the snow pours, drifts, and piles,
Let's snuggle with stacks of fun and cozy snowy books!
At ReaderkidZ, we began our January month of books with two snowy, wintry books and now here are three more new ones and several snowflake-shivery old ones.
FIRST SNOW written and illustrated by Peter McCarty welcomes young picture book listeners – reluctant or enthusiastic – to experience "first snow."  Sancho, Bella, Lola, and Eva greet their cousins visiting from their southern home country where it never snows. Skeptical cousin Pedro states, "I don't … like it…Because it is cold. And I don't like cold." But Sancho, Bella, Lola, and Eva describe the fun of sweeping their arms through soft tickly snow, making snow angels, or catching snowflakes on the tip of the tongue – or – best of all – sledding, ZOOM, down a snow-slick hill. FIRST SNOW is an inviting and engaging "first snow" book.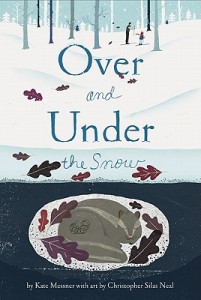 OVER AND UNDER THE SNOW by Kate Messner and Christopher Silas Neal (and surprise – their new book will be out just in time for the snow to melt and spring to appear:  UP in the Garden and DOWN in the Dirt.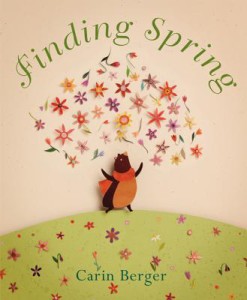 FINDING SPRING written and illustrated by Carin Berger doesn't sound like a snow book. But when little bear, Maurice, begins to think about hibernating all winter, what he really wants to experience is spring. Once his mother is asleep, he goes searching for spring but instead discovers many woodland creatures who are preparing for winter. And then he discovers winter, but mistakes it for spring. He scoops up a snowy handful of "spring" to bring back to his mother. When they both finally awake, his handful of "spring" has melted. Back out he goes and this time, Maurice discovers a beautiful surprise about seasons.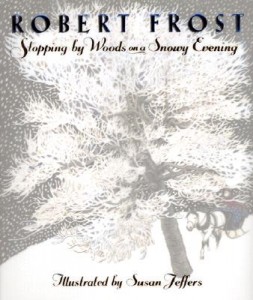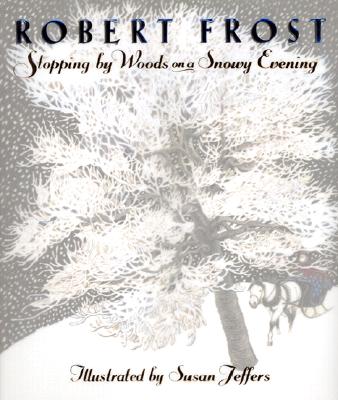 Take a look at a wonderful old poem favorite that has been made into an exquisite picture book, Robert Frost's telling of the magical mystery of a deep-snow wintry night:
Two classics!  THE SNOWY DAY by Ezra Jack Keats – to be read and enjoyed again and again on any wintery snowy day.
And WHOOO – YES!   OWL MOON by Jane Yolen, illustrated by John Schoenherr.
Read about snow. Share a snow cone with a snow man! Imagine – put on snowsuit, boots, mittens, and play in the snow…or read about it in a book.