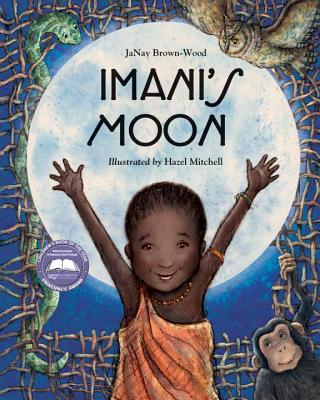 In Imani's Moon written by JaNay Brown-Wood, illustrated by Hazel Mitchell (Charlesbridge, 2014), Imani has big dreams. She wants to touch the moon but she's the smallest child in her village, and her peers make her feel even smaller with their mean taunts. Imani's mother shares stories with her daughter about Olapa, goddess of the moon triumphing over the god of the sun and a spider who captures a snake and makes a name for itself. Imani envisions herself in her dreams standing tall and brave on the moon and making a name for herself. But in her attempts to touch the moon, she falls short of reaching her goal. "I give up," she says.
One night there is a celebration in Imani's village. Young warriors perform Adumu, the jumping dance. Imani watches the warriors jump higher and higher. She cannot look away. She cheers loudly. Inspired by the warrior who jumped the highest, Imani stands beside the tallest tree and jumps and jumps and jumps until she feels herself soaring toward the moon. And while she is floating in the sky, no one teases or taunts her. In fact, she meets Olapa who praises her "Imani the Great" and bequeaths a glowing moon rock to her. When she returns to earth, Imani becomes the storyteller as she shares her adventure with her mother.
Brown-Wood weaves a beautiful tale full of hope and possibilities inspired by the Maasai people of Africa and their mythologies. Mitchell's illustrations blend together seamlessly with the text and envelop you in rich, bold colors. Imani's Moon is a wonderful nod to the magic of storytelling and passing stories on down through the generations. For ages 5 and up.