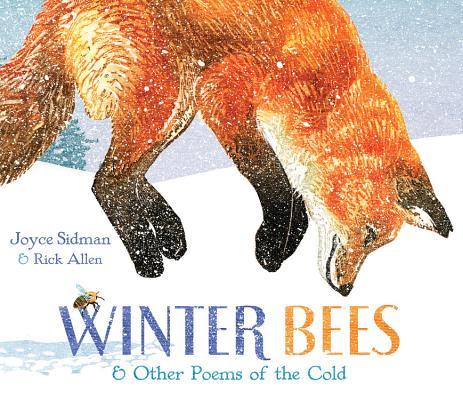 The ReaderKidZ are back, sending best wishes for the New Year with lots of time set aside to enjoy many of your favorite books! This month we're reviewing a small collection of our own "Old and New Favorites." Share some of your own, won't you? We'd love to hear from you!
WINTER BEES & OTHER POEMS OF THE COLD by Joyce Sidman and Rick Allen
Exquisite poetry. Stunning illustrations. Fascinating details in short bits of nonfiction sidebar text. Joyce Sidman and Rick Allen have done it again in this, the second book by the award-winning duo of DARK EMPEROR AND OTHER POEMS OF THE NIGHT.
Each page is a magical snapshot of a piece of winter's landscape – a rascally moose "with a tough, shaggy hide" that kicks and prances, mama moose by his side; the "tiny chickadee, weighing less than a handful of paperclips" that fluffs and preens each downy feather, is "quick and bold and brave and clever"; and even the odd skunk cabbage, which "peeks up through the snow… rears its speckled hood… the first flower in the wood."
This beautiful book would be a lovely addition to a home or library collection, but makes an especially nice offering for teachers looking for ways to integrate writing into the classroom. The pairing of poetry and nonfiction informational text could easily springboard into a writing lesson. An Educator's Guide created by Sylvia Vardell, a professor at Texas Woman's University and the author of Poetry Aloud Here! offers suggestions for using WINTER BEES in the classroom.
Once upon a northern night by Jean E. Pendziwol, pictures by Isabelle Arsenault
Publisher's Weekly describes this book as "A reverent ode to the magic and wonder of an icy winter night." A lyrical winter lullaby – "…one tiny flake, perfect and beautiful and special, just like you…" this book will take your breath away. Watch the trailer for a sneak peek and you'll see what I mean.