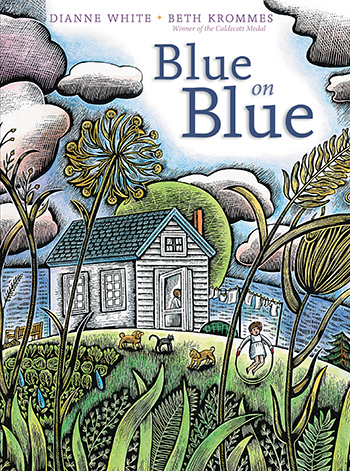 December's coming to a close, which means our giveaways will end very soon. But for those looking for one more gift, we're pleased to add BLUE on BLUE by Dianne White and illustrated by Beth Krommes to our DECEMBER GIVEAWAY list.
Recently included on the Boston Globe's Best Picture Books of 2014 list and the Washington Post's December's Best Books for Young Readers, BLUE on BLUE makes an excellent gift for your favorite child!
Join a farming family as they experience the full range of a thrilling seaside thunderstorm—from the wild wind and the very first drops; to the pouring, pouring rain; to the wonderful messy mud after the sun returns!
With gentle, rhyming text and vivid artwork from a Caldecott Medal–winning illustrator, this sublime depiction of nature's patterns turns a storm into a celebration.
"This lovely homage to ever-changing nature reminds us of all the things rain brings us, including a few extra moments to sit inside, warm and dry, sharing a wonderful book." Kristi Elle Jemtegaard, Washington Post 
For a chance to win a copy of BLUE on BLUE, please send an email to readerkidz [at] readerkidz [dot] com, with the words "BLUE ON BLUE" in the subject line. Pass the word to your friends! Include @readerkidz in your tweet for an extra chance to win.
Congrats to Diane Greenseid, Vicki Wilke, and Sally Swiatek and the kids of "A Little Patch of Earth" Preschool. BLUE on BLUE is on its way!