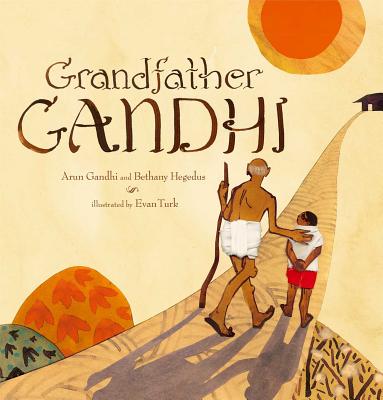 Have you ever felt mad enough to strike? Angered to the boiling point? Frustrated inside like a tangled ball of yarn? This year Grandfather Gandhi, by Arun Gandhi with Bethany Hegedus, illustrated by Evan Turk (Atheneum Books for Young Readers, 2014), came along at just the right time and helped readers understand anger. Like young Arun Gandhi (Gandhi's grandson) in the book, we learned it's natural to feel anger. Everybody does. Even a Gandhi like the Mahatma. It's how we channel that anger that matters. Do we choose light like a lamp and create positive change or do we strike like lightening and cause destruction? Do we live as light or darkness?
As I looked back and examined my childhood, a favorite Christmas memory came to pass about living as light. My younger brother and I decided to go out caroling in our neighborhood. Neither of us had vocals like a meadowlark, but that didn't matter. We toured the cul-de-sac singing about peace and joy and jovial Saint Nick. We accepted donations for the Muscular Dystrophy Association and raised sixty dollars that moonlit night.
That memory sparked my curiosity. I wondered if living your life as light took on an extra special meaning during the holidays and so I turned to the Grandfather Gandhi creators to see if they too had a memory or advice they wanted to share with ReaderKidZ families.
Arun Gandhi: When I was a child, in South Africa, my playmates were the children of the impoverished African farm laborers. For generations they had never been to school. My parents encouraged me to share my learning with them and in return they showed me how they entertained themselves. Our play time was split between fun and lessons. Their thirst for knowledge was so great that when word got around that I was teaching the kids reading, writing, and arithmetic, parents from further away brought their children to the Phoenix ashram to learn. Soon we had close to a hundred kids attending our informal school. In turn, they taught me how to make clay figurines and other games from discarded cycle wheels and matchboxes. In retrospect, I think that was the most fun time in my life as well as the most fruitful.
Evan Turk: After I went off to college, far away from my family, I realized how important spending the holidays with my family was to me. So now whenever I visit my family, I try to have as much time, kindness, and patience for them as I can as my way of saying "thank you" and "I love you."
Bethany Hegedus: As a child, I collected coins–not only at the holidays–but all throughout the year. This was before the change counting machines and I'd beg my parents to get me the paper rolls for pennies, dimes, nickels, and quarters. I'd stack them in big towers and then put them into the paper wrapping. We'd take them to the bank and there I'd turn the change in for paper money–which was always a big deal. Then I'd donate the money to St. Jude's. I wasn't a sick child. I never had the measles, chicken pox, or even a broken bone. I wanted the money I saved (and dug from under the couch cushions) to help kids with serious illnesses. Kids, all kids, have an activist spirit. We feel things so greatly when we are young: fairness, unfairness– and in my mind, when we "live as light" we don't lose that internal compass that shines the light on the small steps we can make to "be the change."
For a chance to win a copy autographed by Arun Gandhi and Bethany Hegedus, email readerkidz [at] readerkidz [dot] com, with "Grandfather Gandhi" in the subject line, and your name and address in the body of the email. Good luck and happy holidays!
Congrats to Carl Scott! Your book is on its way!