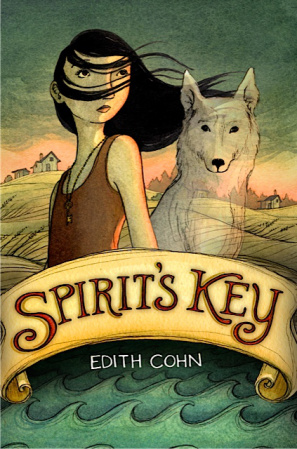 SPIRIT'S KEY (FSG, 2014), an incredible debut middle grade novel written by Edith Cohn, is a mystery about a twelve -year-old girl named Spirit who works with the ghost of her pet dog to solve a crime on a remote island filled with magic house keys, wild dogs and superstitious characters. Magic keys! Wild dogs! Sounds like the perfect holiday giveaway to me!
Effervescent Edith stopped by to tell us a little bit about her writing process and what writing this book has taught her. She was born and raised in North Carolina where she grew up exploring the unique beaches of the Outer Banks. She currently lives in the coyote-filled hills of Los Angeles with her husband and her dog. All of these things provided inspiration for SPIRIT'S KEY.  Folks, she is one of the most warm and delightful authors I've ever met. Watch out world. We're going to be seeing great things coming from the talented Ms. Edith Cohn!
ReaderKidZ: Describe the inspiration behind SPIRIT'S KEY.
Edith: The book has several inspirations. The fictional setting of Bald Island is deeply inspired by the Outer Banks of North Carolina. I grew up going to the Banks. But I also read a lot of history about their hurricanes, their whaling, and their one room schoolhouse. And it seems so unreal, but the islanders' belief that yaupon tea can cure anger actually comes from something real that I read about.
Of course, I took fictional liberties. I decided my island would have wild dogs instead of wild horses like the real Outer Banks. I live in the hills of California, and I have coyotes in my backyard. They want to eat my little dog Leia. Every spotting takes my breath away–reminds me of our mortality, the wonder of nature and what it means to be a wild thing.
At the time, my niece was trying to decide if she wanted to be a vegetarian or not. And I also got to thinking about how kids are still figuring out what they believe. One of my favorite things about SPIRIT'S KEY is this discussion about animal rights and beliefs.
ReaderKidZ: Tell us how you came to know your protagonist. Did you have any ah-ha moments you'd like to tell us about? 
Edith: Spirit's name actually came from a baby-naming book I keep on hand right next to all my other writing craft books like Bird By Bird. I knew Spirit was grieving the loss of her pet dog, but she didn't really come together as a character until I realized she was the only person on Bald Island who understood the wild dogs. She truly grew out of the setting I was creating.
ReaderKidZ: Explain what you hope readers will take away as a result of reading your debut. 
Edith: I'd love it if this book generated discussions about fear and prejudice or any kind of discussion really. I think the best books make people think about the world in a slightly different way. I'm always aiming for this when I write. I do hope readers will download the Discussion Guide I'm offering on my website. In it, they'll find chapter-by-chapter discussion questions and so much more!
ReaderKidZ: Tell us what the act of writing this book taught you about the writing process. 
Edith: I'd never written a mystery or a fantasy or even a middle grade novel before. All my previous book attempts had been YA contemporary. So I learned a lot about world building, the rules of magic and how important it is in middle grade for the main character to make an impact on their world.
ReaderKidZ: Tell us what writing this book taught you about yourself.
Edith: I learned to face a lot of fears. It took me over a year to start writing because I was afraid I didn't know how to write a fantasy or a mystery or a middle grade novel. So I had to convince myself I had nothing to lose—that no one but me would see it. Somehow I learned how to write for myself and not worry about the outcome. Now, how to repeat that zen attitude? I couldn't tell you.
ReaderKidZ: Can we look forward to anything new from you? Any new projects? 
Edith: Oh yes. I have a few more stories up my sleeve. When they'll be ready for public consumption, I can't really say. I never know when what I'm working on will really come together. It has to roll around in my head until it gets sorted. I'm still sorting.
Take this moment to register with Edith for a free giveaway by emailing Edith at edithcohn [at] gmail [dot] com. Be sure to put "SPIRIT'S KEY Giveaway" in the subject line. While you're at it, send Leia a little note, too.