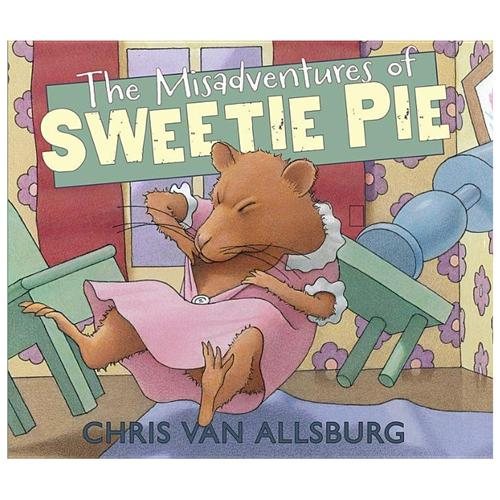 Know any kids who really want a pet as a gift? Or more on target, kids who have a pet and aren't quite as responsible about it as they promised? That would be almost all kids.
This is the latest from author-illustrator Chris Van Allsburg, creator of The Polar Express, Jumanji and many more extraordinary picture books.
The Misadventures of Sweetie Pie is a darkly humorous and ultimately triumphant tale of a long-suffering and curmudgeonly hamster. It may not be for the sensitive and tender-hearted as its darkness lies in the trails suffered by Sweetie Pie at the hands of well and ill-meaning children. He is sold, neglected, overfed, underfed, traded, terrorized by other pets, and forced to wear doll clothes, among other things. Oh, and left in his cage outside in the snow. Fortunately this is not that dark of a story, and the ending is happy. The illustrations, of course, are brilliant. For the right young and old readers, it's action-packed, funny, and might even scare a kid into proper pet care.
For a chance to win a copy, email readerkidz [at] readerkidz [dot] com, with "Sweetie Pie" in the subject line, and your name and address in the body of the email. Good luck and happy holidays!
Congratulations to Randie G. and Cheryl P., our winners! Books are on their way.