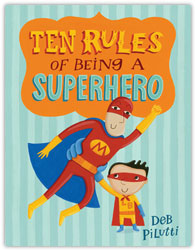 Today we're chatting with Deb Pilutti, author and illustrator of the charming picture book – Ten Rules of Being a Superhero (Henry Holt/Macmillan, 2014). Deb's on board to participate in the ReaderKidZ December give-away extravaganza in a big, big way. Simply read through this post and you'll find the contact information needed to register to win a free copy of this extraordinary story.
In Ten Rules of Being a Superhero, Deb explores the fine line between fantasy and reality. Her text portrays the attitudes of tenacity and fortitude required to follow the ten basic rules of being a superhero. Yet, the illustrations tenderly juxtapose the powerful nature of superhero-ness by quietly showing that tough guys need to have a tender side, too. As Rule Number 10 states: "Every superhero needs a sidekick. Because saving the day is more fun with a friend."
We at ReaderKidZ are thrilled that Deb took the time to answer a few questions for us. Enjoy getting to know this delightful author/illustrator and then rush to sign up for a chance to win a copy of Ten Rules of Being a Superhero. You'll be ever-so-glad that you did!
Also, should you be interested in a supplemental Discussion and Activity Guide aligned with the Common Core State Standards, Deb has one on her website ready and waiting for you to download!
ReaderKidZ: Describe the inspiration behind TEN RULES OF BEING A SUPERHERO.
Deb Pilutti: I have spent many, many hours discussing the merits of various super powers with my children. Seriously. It used to be a daily topic of conversation. That and my love for toys, especially retro and slightly awkward looking ones, inspired this story about a boy and his superhero toy.
ReaderKidZ: Weren't you once a toy designer in a prior life? Explain how that background informs your writing and illustrating.
Deb Pilutti: Yes, I designed several toys when I worked for Oliebollen. Playfulness is a big part of designing for children, which also helps when writing and illustrating. I worked as a graphic designer for a long time and even though I didn't think of myself as a storyteller, I was using words and images to tell a story or create an image, whether it was for an ad campaign or a theme park.
ReaderKidZ: Rule Number 3 states that "Every super hero has at least one superpower. That's makes him SUPER!" Do you have a super power? Tell us what it is.
Deb Pilutti: I have an excellent sense of time – but that seems more like a sidekick power, doesn't it? I'm good at teaching myself new skills, like learning how to program websites, or how to make an animated video like this one.
 ReaderKidZ: Describe both the challenges and rewards of being both the writer and illustrator in a project.
Deb Pilutti: Writing is a bigger challenge for me. I really have to work hard to make the story feel natural. This involves a lot of staring.
Usually my ideas start with an image or illustration. Then I'll work on the text and go back and forth between the two. I may change the text based on the illustration or vice versa. Another plus for doing both is that I can be more efficient with my words, because the illustrations can communicate an idea or feeling.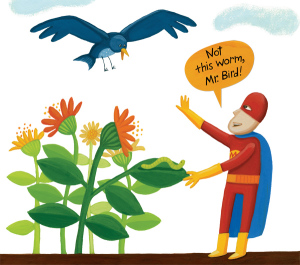 ReaderKidZ: We've heard it said that each book teaches the author something about themselves, either personally or creatively. How about you? Tell us what you learned while creating TEN RULES OF BEING A SUPERHERO.
Deb Pilutti: This is the first book I've had published as both the author and illustrator. Even so, it isn't just my book. Everyone has a vision of what the book can be. I looked at the editing process as an opportunity to make the story as tight as possible and enjoyed the interaction between my editor, Christy, and the design and marketing team at Henry Holt/Macmillan.
Quick! Take this moment to register with Deb for a free giveaway. All you need to do is contact Deb at deb [at] debpilutti [dot] com. Be sure to put "TEN RULES Giveaway" in the subject line. Hurry!!!! She's waiting to hear from you. Tell her that the ReaderKidZ sent you!
Thanks to everyone for entering! and congratulations to winner RITA PAINTER!