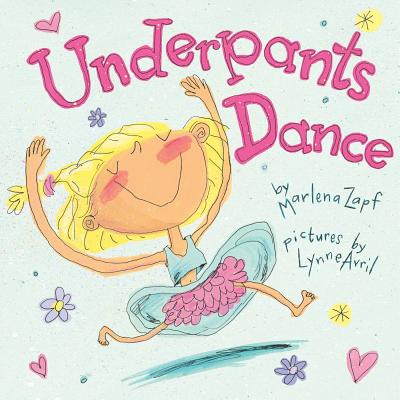 If you've ever been around kids of picture book age, you know that underpants are giggle-worthy. Think of "that page" in David Shannon's, No, David! or the fun kids have pulling Dav Pilkey's Diaper Baby or Captain Underpants off the shelves. There can never, ever be too many underpants books! Enter, UNDERPANTS DANCE by Marlena Zapf with pictures by Lynne Avril.
Lily McBloom had fancy, lacy underpants. In fact, they were so lovely, Lily couldn't help but make up a special fancy-pants dance to show them off. This did not go over well with poor big sister, Marigold. Lily embarrasses her and has to promise "never to do a "Leaping-Down-the-Steps Underpants Dance ever again." Of course, there's always the "Top-of-the-Slide Underpants Dance"  which is silly enough to give a whole class a case of the giggles.
With lively and hilarious illustrations by Lynne Avril, this book sets just the right exuberant tone. Underpants Dance. The title alone is reason enough to make kids want to check this book out over and over and over again.