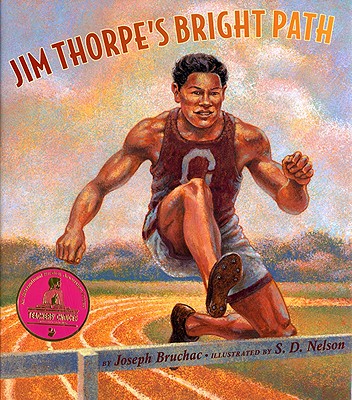 From all of us at READERKIDZ to all of you, sincere wishes for a healthy and joyous Thanksgiving and holiday season.  May we see and celebrate the kindness of others.  May we surprise a friend or stranger with "unjustified" kindness.  May we celebrate goodness with laughter and applause.
JIM THORPE'S BRIGHT PATH by Joseph Bruchac, illustrated by S.D. Nelson (Lee & Low, 2008)
November is American Indian Heritage Month. We begin our celebration with a look at one of the world's most outstanding and versatile athletes –  Jim Thorpe, Sac & Fox (Sauk).  Thorpe's native name is Wa-Tho-Huk, meaning Bright Path, and indeed Thorpe's courage has blazed new paths for many.
In 1912 the king of Sweden shook Jim Thorpe's hand at the world's Olympic Games in Stockholm after Jim Thorpe had captured two gold medals. Some had said it was impossible for a Native American to capture any gold medals – but Jim Thorpe placed first in two of the Olympic's toughest events, the decathlon and five-event pentathlon.   King Gustav V told Thorpe, "You, sir, are the greatest athlete in the world."
Despite a lifetime of fighting against prejudice and discrimination, Thorpe's story shows an amazing path of courage as well as leadership, generosity and contributions to his community, country and professional sports.
In 1950 Jim Thorpe received two monumental honors:  he was named "the greatest American football player" and the "greatest overall male athlete" by the Associated Press.  Many acclaim Jim Thorpe as the greatest athlete of the 20th Century.
RED BIRD SINGS: The Story of Zitkala-Sa , adapted by Gina Capaldi & Q.L. Pierce, illustrated by Gina Capaldi. (Carolrhoda Books, 2011)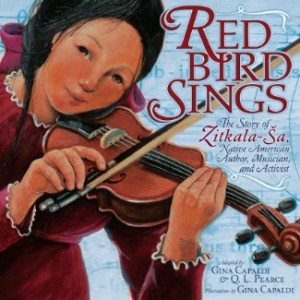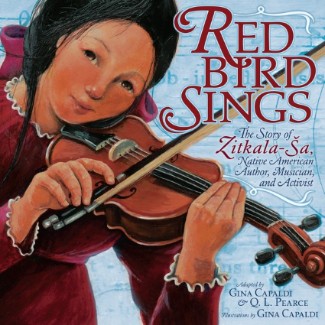 Imagine being eight years old and leaving home.  Not running away, but leaving to learn to read and write.
Zitkala-Sa, little Red Bird, left the Yankton Sioux reservation in South Dakota, climbed aboard a roaring steam-engine train, and headed East to the "Land of Red Apples," Indiana.  She arrived at the boarding school for Native children where she was handed a scrub brush.  Her long black hair was chopped off and her soft moccasins were exchanged for hard-soled shoes. This Red Bird did not quit; she learned to scour floors and then she entered a classroom, for the first time, and learned to read.
Imagine performing a violin performance while some of the audience waved a giant white banner with the word: SQUAW.  Imagine giving speeches to thousands asking for the rights of your people. Imagine meeting with the president of the United States to discuss treaties.  Zitkala-Sa's story helps us imagine the fear and the choice to continue with courage.
As an adult Zitkala-Sa worked as an activist for Native American rights.  She sang, spoke, and wrote to build bridges of tolerance and understanding between cultures.
This picture-book biography is exceptional, as was Zitkala-Sa. Her singing spirit and courage is shown through her own words, songs, and Capaldi's engaging illustrations.  Zitkala-Sa's story helps us all to imagine how difficult it is to face intolerance and be a stranger in a "white world."
Two new picture books of mine, Cowboy Up! Ride the Navajo Rodeo (photo-illustrated by Jan Sonnenmair) and The Hogan That Great-Grandfather Built (illustrated by Peterson Yazzie) celebrate Navajo culture today.  Come to the rodeo and experience the skill and strength of young rodeo athletes as well as the pride of family and friends who work beside the young wrangles from daybreak to sunset. Or, in The Hogan That Great-Grandfather Built, listen as simple words show why the Navajo Hogan means place, family, and home.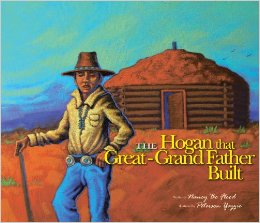 Celebrate this month of Native American Heritage and read one good book about the people who have given to strangers from the first Thanksgiving onward through many decades.