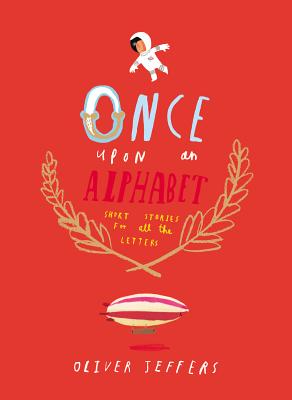 Letters make words. Words form sentences. Sentences become stories. But what if each letter were able to have its own story? A story made especially FOR each of the 26 letters of the alphabet? ONCE UPON AN ALPHABET, by Oliver Jeffers, is just such a book. Readers will learn about Edmund the Astronaut, who, in spite of his fear of heights has been training for ages to go on an adventure where he can meet aliens. Then, there's Danger Delilah, the daredevil, dancing at the door of disaster, nothing-is-too-dangerous young girl who fears nothing, "except her dad when she's late for dinner" because he promises, "If you're not home in FIVE minutes, there'll be NO DESSERT!" And, then, the enigma of  E – "How many elephants can you fit inside an envelope?" The answer?  "Turn to the letter N to find out…" There, the enigma is solved. Sort of.
Entertaining, interlinked, and inspiring. This is the ABC story book to beat all alphabet books. For kids and adults alike.
A Publishers Weekly Best Book of the Year!
* "The silly, spare, slightly surreal text occasionally rhymes and endlessly surprises. An utterly delightful alphabet book."–Kirkus Review, starred review
* "With wry humor, equally droll ink illustrations, and a solid dose of alliteration, Jeffers creates delightful mini-narratives for each letter of the alphabet."–Publishers Weekly, starred review
* "An altogether stimulating, surprising, and satisfying reading experience."–School Library Journal, starred review