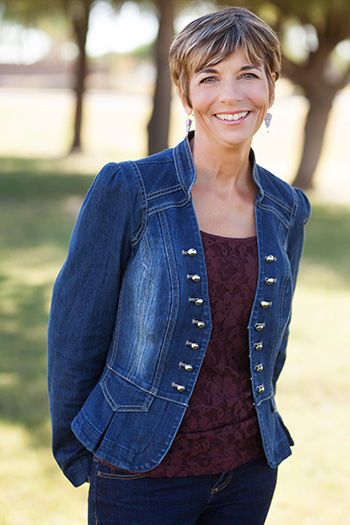 ReaderKidZ co-founder and elementary-school teacher Dianne White's spectacular picture book BLUE ON BLUE will be released on December 9th. We're thrilled at the chance to interview one of our own! Today we pick up where we left off on Wednesday.
ReaderKidZ: You were a teacher in grades 1, 2 and 3 for more than 25 years. If you had had this book in your classroom, how would you have used it with your students?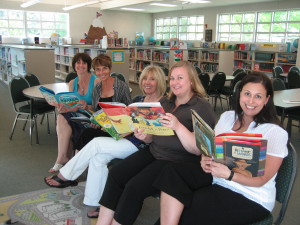 Dianne, 2nd from left, with other first grade teachers at Peachland Elementary School
Dianne: I spent most of my teaching career in the primary grades, and all those years teaching first graders and reading so many wonderful picture books to young ones gave me a great appreciation for the genre. But even during the years I taught upper grade students (including one year when I taught a combo class of 4/5/6 grade students!), I always used picture books with students. And for good reason. Picture books are generally 32 pages long, and are tight packages of story.
Nonfiction. Fiction. Book-length poems – picture books are perfect for introducing a topic of study, developing background knowledge, or as an introduction to a writing lesson. I would have used BLUE on BLUE in the same way I have used many other picture and poetry books over the years – as a source of possible ideas and words for brainstorming a new poem (rainstoming!), as a way to talk about poetic devices (e.g., onomatopoeia, alliteration, etc.), and even as a way to think about story structure – beginning, middle, and end. In addition, Caldecott winner Beth Krommes's stunning illustrations are rich with opportunity for further exploration of visual literacy and the marriage of words and illustrations.
ReaderKidZ: What were the challenges of keeping the word count as short as you did, while also trying to portray an entire day, with its changing moods and weather and children? Many writers feel that writing short is harder than writing long. As Mark Twain said, "Writing a short letter would take too long, so I wrote a long one." Any comments?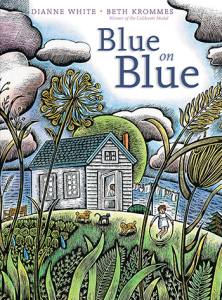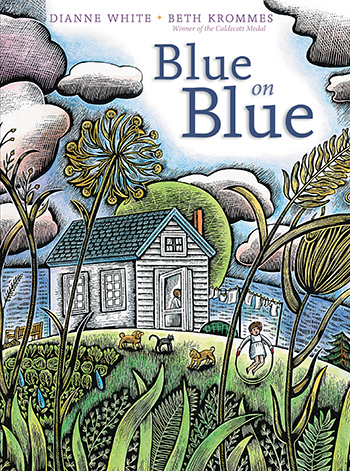 Dianne: I'm in the camp that agrees with those many writers who say that writing picture books is deceptively harder than it appears. I love Samuel Taylor Coleridge's quote about poetry and think it is apt to picture books, as well: "I wish our clever young poets would remember my homely definitions of prose and poetry; that is, prose,—words in their best order; poetry,—the best words in their best order."
Picture books are meant to be read aloud. They're oral and aural experiences. The sound of the "best" words and their placement in exactly the "best" place is at least as important as the meaning the words convey. What's left out is as critical as what remains.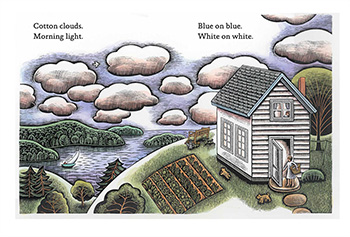 © illustrations by Beth Krommes
As to the challenges of keeping the word count short (119 words) while also portraying an entire day, I have to say that – for this book – I didn't think about it at all. Every now and again you hear a writer say that the book they've written was a gift and BLUE ON BLUE was exactly that. Nothing mysterious, mind you, but as I recall, it was very quickly written one Sunday afternoon, the day before I was scheduled to share a manuscript with my Vermont College of Fine Arts Picture Book Certificate Program colleagues. Being under a time crunch, I fell back on a lesson I'd done with students many times – I collected "rain" words, thought about the beginning, middle, and end of my story, and wrote. I shared the manuscript with the group, someone suggested changing one word – I think it was from "sun comes back" to "sun sneaks back" – a much stronger verb, don't you think? – and some time later, after very few word-level tweaks, I sent the manuscript off to Allyn Johnston, who had recently launched her new S&S imprint, Beach Lane Books.
Within days, I got a call. Allyn wanted to publish the book! Those of us who've been at this business for a long time know that never, ever happens. Allyn bought the book, Beth Krommes signed on to illustrate, and that manuscript, as submitted (minus a few lines, which were dropped, as they could be shown in the illustrations), is the one that will hit bookstores in just a few weeks. Perfect Editor + Perfect Illustrator = Amazing Experience from start to finish. That's what I call a Gift.
(Check out Dianne's website for more information on BLUE ON BLUE as well as about picture books in general, picture book writing, teaching with picture books, and even having Dianne visit your school or library.)