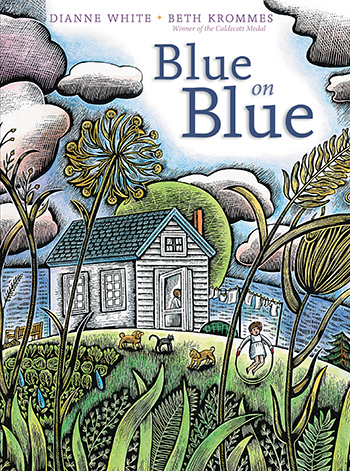 ReaderKidZ co-founder and veteran elementary-school teacher Dianne White, wrote a spectacular picture book called BLUE ON BLUE, that will be released on December 9th. It's beautifully illustrated by Caldecott Medal–winning illustrator, Beth Krommes. We're thrilled and wanted to learn more, so Dianne is answering Stephanie's and Ann's questions this week. (Incidently, check out Dianne's website for more information on BLUE ON BLUE as well as about picture books in general, picture book writing, teaching with picture books, and possibly even having Dianne visit your school or library.)
  Dianne as a third grader.
ReaderKidZ: The words, rhymes and rhythms in BLUE ON BLUE are so strong. Do you play a musical instrument? If so, which one and do you think it informs your writing? 
Dianne: Thanks! Like many kids growing up, I took piano lessons but was never terrific at reading the music and playing at the same time. On top of that, I hated to practice, so after a few years, I quit. Guitar was the same – I took the lessons, but didn't have the discipline to practice the way I should have. I didn't stop music altogether. I love to sing and still enjoy playing the piano, but prefer to play by ear, making up the music as I go – for me, it's much more satisfying.
The musicality of picture books and poetry continues to appeal to me and I do believe at least some of my sense of rhythm comes naturally. But I also rely on the poetry tools I've picked up over the years and still fall back on scanning lines and taking a deeper look at the rhythm when something isn't working
ReaderKidZ: What is your writing routine? How do you work?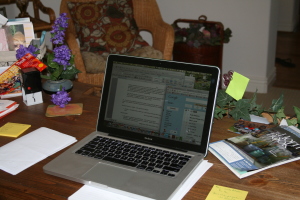 Dianne: When I'm home, I'm almost always at my computer, no matter the time of day or night. Unfortunately, that does not necessarily mean I'm writing. Oh how I wish! Trying to flesh out an idea and get a completed draft on the page is hard. I know I'm not the only writer to have that struggle.
For me, something has to click. Often, it's the sound of words or a particular rhythm that hits first. It's usually connected to an idea, but the idea won't go anywhere until I've found a beginning for the words, and the rhythm and language of the piece.
I have a lot more discipline (and fun!) with revision, though it often amazes me how complex and difficult revising such a short piece of text can be.
I'm notorious for needing a quiet environment. No music. No people. Just me, by myself – thinking, typing, and reading the words aloud as I go.
ReaderKidZ: Which picture book authors have inspired you most?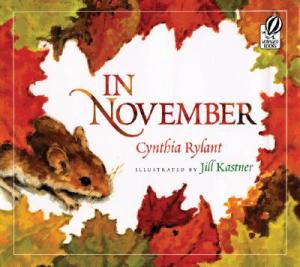 Dianne: That's a hard question because there are so many picture book authors I admire, but I'll choose Cynthia Rylant, because she's been at the top of my list for years. Not just because of her picture books, but also her EZ reads, – Henry and Mudge and Mr. Putter and Tabby, both of which I completely adore – novels, poetry, and nonfiction.
Friday, Dianne will discuss some of the challenges of writing picture books, and how teaching has informed her work.