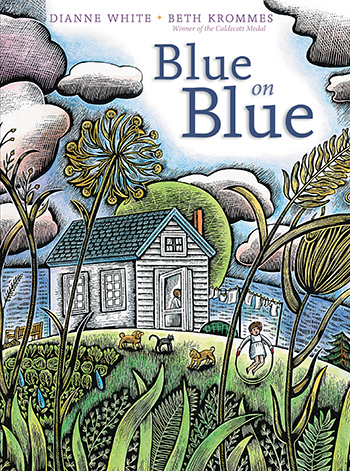 This month, we'll be talking about picture books – old favorites and new arrivals. Loud and quiet, serious and silly, fiction and non-fiction. To kick the month off, we're ecstatic to be able to celebrate the picture book debut of ReaderKidZ Dianne White, author of the beautiful BLUE ON BLUE (Beach Lane Books), illustrated by Beth Krommes.
"Cotton clouds, morning light. Blue on blue. White on white. Singing, swinging outdoor play. White on blue on sunny day," and so it begins. The simple, yet evocative, story about a single day in the life of a little girl and her family on their farm that's told in the sparest, possible language to achieve the tightest, most descriptive effect. In little more than 100 words, White conveys the peace of a sunny day outside with Mother, followed by the excitement of dark, looming clouds and the dramatic arrival of a noisy downpour, with the scared little girl's feet poking out from under the covers on her bed and her loyal dog beside her. "Thunder! Lightning! Raging, roaring. Rain on rain on rain is pouring." This is a book that begs to be memorized so that children can come to appreciate how much action a tight phrase can portray, and the sheer power of single words when placed in the right order.
On sale December 9th!
"White's graceful pacing spreads the energy of the storm" – Publisher Weekly, starred review
"A joyous, pelting, dripping celebration." – Booklist, starred review
"Succinct rhymes, measured and musical … astonishing restraint, grace, and fluidity." – Kirkus, starred review
Autumn 2014 Kids' Indie Next List  (ages 4- 8) title.