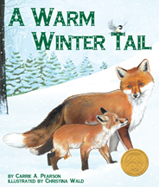 Author Carrie Pearson has penned two books in which she explores the biological seasonal changes in a creatively contrasted manner. In A Warm Winter Tail and A Cool Summer Tail (published by Sylvan Dell), she inhabits the minds of young animals who wonder if human children prepare for the change in seasons in the same way that they do.
In A Warm Winter Tail, baby deer wonder if humans grow hollow hair to keep warm in the winter. Baby frogs ask if human body parts freeze. Baby bears ask if humans get plump and sleep in a lump.  Likewise, a young boy asks his mother if animals stay warm by bundling up in scarves, jackets, and boots. He is assured that their bodies know how to stay warm in the winter. No need for buttons or bows.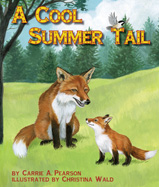 A Cool Summer Tail features a baby fox asking his mother if humans stay cool in the summer by hanging out their tongues and panting. Baby bees ask if humans cool their hives by using their wings to blow in air, thus helping the Queen to survive. Baby hummingbirds wonder if humans migrate in search of a cooler summer home. In the end, a boy asks his mother if animals splash in a swimming pool to stay cool.
In addition to the plethora of free online information offered on the publisher's website, the final pages of both books include four pages of rich learning activities. These lessons, paired with Illustrator Christina Wald's lovely detailed work and Pearson's intriguing text, will undoubtedly enhance any study of the natural world and the fascinating creatures that inhabit it.