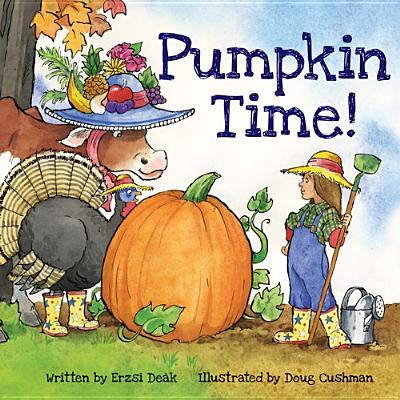 Growing up on the Canadian plains, I have fond memories of gardening alongside my mother and grandmother and reveling in the sheer magic of seeing vegetables sprout from once tiny seeds. My brother and I used to hide behind towering corn stalks and pluck pea pods off vines and author Erzsi Deàk and illustrator Doug Cushman take me back to that joyful time with the release of Pumpkin Time! (Sourcebooks, 2014).
Little Evy plants seeds with grand aspirations of a feast waiting to sprout. She is so intent on caring for her vegetable plot that she hastens to notice the zany antics that are happening all around her: donkeys sailing through the sky, pigs dancing round and round the May pole, and chickens, rabbits, and pigs playing badminton. Kids will enjoy repeating the phrase "What was Evy doing?" as the pages turn, clues stack up, and the story unfolds. Cushman's bright illustrations are candy to the eye and Deàk's playful language elicits a fun read-aloud with a celebratory ending. Surprises are in store in the back matter with facts, trivia, and a toasted pumpkin seed recipe. For ages 2+
Using the picture book Pumpkin Time! as inspiration, create a teacher or librarian gift that shows how much you appreciate them planting the seeds of knowledge that will grow forever! For additional activities to accompany the book, visit the Pumpkin Time! website.