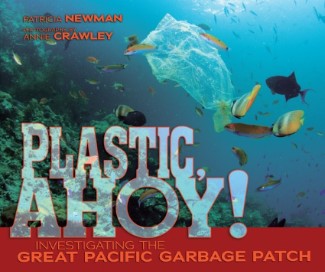 You're probably already aware that, worldwide, one of the most pressing environmental issues we face today is that of plastic pollution. However, did you know that infinitesimal amounts of plastic debris have accumulated in such way that five continent-like gyres have formed in our planet's oceans? Dangerous gyres that endanger every ocean bound organism living today? Author Patricia Newman explores this horrific phenomenon in her fascinating book entitled Plastic Ahoy: Investigating the Great Pacific Garbage Patch (Published by Lerner) in a light-hearted, yet factual and informative way.
The book tells the story of a group of SEAPLEX scientists as they identify, classify, and hypothesize real-life problems and solutions created by gyres. Coupled with Annie Crawley's insightful photographs, the young reader is certain to not only become fascinated by visual evidence of the problem plastic pollution has created, they will become inspired to participate in solutions to help stop the growth of massive clusters of garbage churning about in the ocean.
Lerner is offering of number of supplemental education materials on their website. Click HERE to access an author and photographer Q & A, an educator's guide, and much more! And, for further information access an interactive website sponsored by 5 Gyres, an organization whose mission is to conduct research and communicate about the global impact of plastic pollution in the world's oceans.