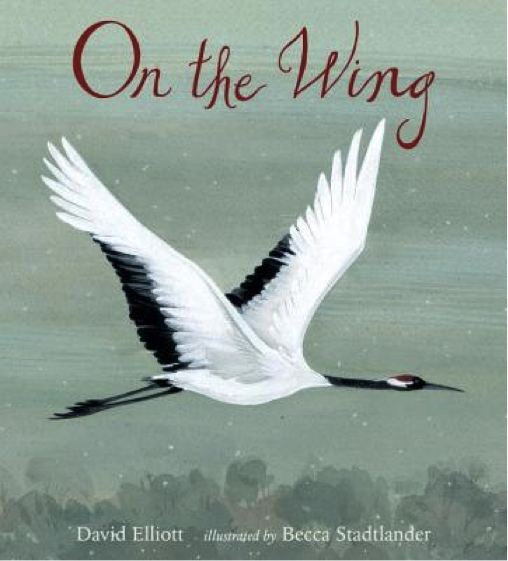 David Elliott takes us soaring with On the Wing, illustrated by Becca Stadtlander, the latest in the award-winning series On the Farm/In the Wild/In the Sea by Candlewick. His witty verses feel like velvet as they roll off the tongue.
"Music lovers fast await
the first duet
of summer.
Oriole is vocalist.
Woodpecker is drummer."
It's hard to choose a favorite from the seventeen birds we meet but I like "The Crow" with his cunning confidence and caw-caw-phony singing voice. The fifteen stunning avian species are spread across continents from the Americas to Australia to Asia. We begin with the busy hummingbird and end with the majestic bald eagle. In between we feel the rough southern seas the albatross steers across and early spring when the cranes dance in the snow.
Stadtlander's gouache artwork is breathtaking in this, her picture book debut. The blend between art and text is sheer bliss. I can see young children taking the book outdoors and matching the birds in their backyard to some of the feathery friends found in the pages. On the Wing is a book to be treasured for all ages.
Take a peek at the trailer to see some of the amazing art work by Becca Stadtlander.