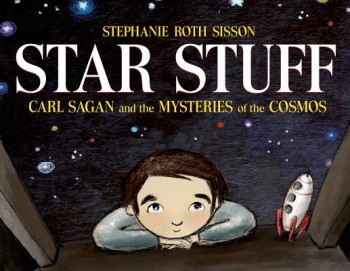 "In the Milky Way galaxy … in a big city … in a small apartment … lived a boy named Carl." And so it begins, STAR STUFF, Carl Sagan and the Mysteries of the Cosmos, (Roaring Brook Press, 2014), written and illustrated by Stephanie Roth Sisson. In a charming book about the man who introduced the magical wonders of the universe to so many people, Sisson tells the simple story of a boy filled with an eagerness to understand the stars and planets in both words and pictures that will enthrall young and old readers, alike. Starting with the cover, where a young Carl gazes wide-eyed at the night sky, Sisson's childlike illustrations, dotted with interesting tidbits delivered in cartoon balloons, make this inspiring story not only accessible, but eye-opening. Several vertical illustrations will draw appreciative ahhhs! from the audience, so perfectly do they convey the vast excitement of the universe.
We spoke to the book's author & illustrator, Stephanie Roth Sisson, to find out more about how and why she wrote this book.
ReaderKidZ: The opening pages of Star Stuff are so arresting. By starting with an illustration of the vast universe, and then narrowing our perspective down to that of a little boy in a New York apartment over several illustrations, you make it so personal. How did you come up with that idea?
SRS: I had been looking for a way to begin – and that was actually one of the parts of the original dummy (there were many) that stayed pretty constant. I think the idea was a combination of knowing that the book would end with Voyager 1 leaving the solar system for interstellar space and wanting to play with that idea to begin with, and there was also this movie that I can't remember the name of. Maybe you do? It was maybe late 70's early 80's vintage and I remember seeing it in a museum or that sort of venue at the time, where the movie starts off in very small scale and then zooms out and we see two people laying down in the grass and then zooms out to earth or something like that. Anyhow, I wanted to set the scene and also start talking about scale right off the bat because that's a big part of the story – also expansion and exploring.
ReaderKidZ: In your author notes, you mention the many roles Carl Sagan filled in this life, but your story is a study in simplicity. Can you tell us a bit about how you went about finding your focus and how many drafts that took? There were so many directions you could have taken this story. It had to have been hard work, deciding on the right one.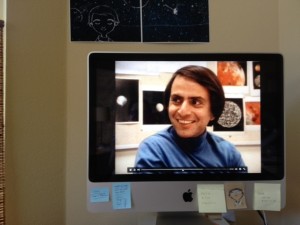 SRS: As I mentioned, there were many versions of the story. When I was back home in California just a few weeks ago, I hauled them all into the living room and spread them out and thought, that this is what people never really see- how much work goes into every simple picture book out there. There were a lot of directions that I could have taken and I think that I took many of them during the process. His beautiful Pale Blue Dot essay was part of a couple of versions, but that pulled off track too much. The key was connecting with Carl, the boy, and what he was interested and then pulling those themes through. The 1939 World's Fair opened up his world and then looking up at the stars and wondering what they were and then the trip to the library and his world just got big and bigger and more filled with possibility and more wonder.   I got lucky, too, because I would listen to interviews that he gave (one per morning while I was taking my bath) and one day stumbled upon one that he gave at the Skeptics Society.  I have a quote from it in the back matter where he talks about how his life was like he had imagined it as a child- and that science fiction and wonder led right to his career as a scientist – and then there it was.
ReaderKidZ: You were both the author and the illustrator. How do you work out what you'll say in words, versus what you'll show in your illustrations? Do you start out with a longer manuscript from which you trim sentences as you decide what you'd like to show in illustration, instead? Does doing both the writing and the illustration make your job easier, or harder?
SRS: I've been trying to figure all of that out, too. Writing isn't something that comes easily to me. Looking at all of those versions of the book, the first one – the one I tortured my poor critique group with – was all text. I just about put everyone to sleep with my lists of facts – then someone said,  "show, don't tell"  and my next version became much lighter and had depth without being so wordy.   Maybe sitting down and trying to "write," I forgot that I had another tool to create the story with. Funny. So, I am working on my next book now and I started off with both together this time . I actually have one version of it that is almost entirely pictorial and that seems to be with just a word here and there.  I illustrated my first book in 1994, so I think I'm used to thinking in pictures – I just had to give myself permission to use that for writing.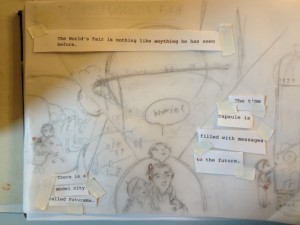 ReaderKidZ: Is this your first author-illustrator book? How long did it take you to finish it? Did your editor ask for much revision, or was it accepted pretty much as you submitted it?
SRS: Yes. It took about 2-3 years. My agent, Abigail Samoun at RedFox Literary, asked if I had ever tried writing and encouraged me to try.  I began playing around with the idea of a picture book biography of Carl Sagan- he was a childhood hero of mine. I couldn't believe that no one had done one before. I reread the books I had of his and started torturing my critique group.  We had a tiny dummy ready to send out around November of 2012.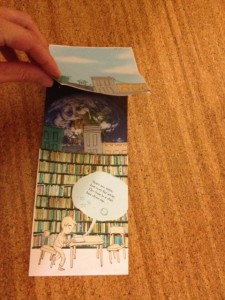 I've included a picture of the original dummy that was sent out. Abi made a PDF of it and out it went. Abi wrote a wonderful query letter and off it went and in just a couple of weeks – I don't even think it took a month, STAR STUFF found a home at Roaring Brook Press, thanks to their super savvy, wonderful editor Kate Jacobs. The dummy changed quite a bit from there. We worked hard to strengthen the central theme and narrow the focus even more. There was a trouble spot for me around the end of the book that was being rewritten over and over again as the deadline loomed.  And then another big thing that happened right before heading off to move to Mauritius (my family moved to the opposite side of the globe in December of last year) – we were going to use a picture that Carl Sagan had done as a boy and we had assumed that since it was press released and was being donated to the Library of Congress that it was in the public domain, but it wasn't.  We couldn't get permission, so I created a drawing that was loosely based on his that also included a female astronaut.  I think it worked out better that way (with the rendering I did) because, as my dad pointed out, he stopped on that picture because it didn't fit that a drawing newly-made would have an aged appearance. People can check out the original at the Library of Congress website – the collection is fascinating. It wasn't made public until after the book was done and it was really cool to see all of the themes being played back- his  lifelong fascination with Mars, for example.
ReaderKidZ: Can you give us a hint about your next book?
SRS: I'm a bit superstitious about talking about my next project. 🙂
We don't blame you, Stephanie Roth Sisson. Thank you for a great interview and a beautiful book!