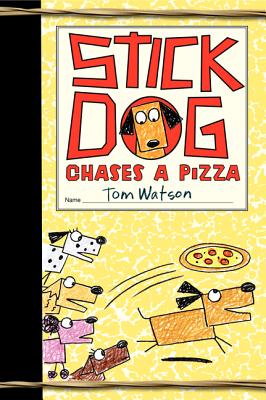 Stick Dog Chases a Pizza by Tom Watson is not your everyday book about friends. It's fun through and through and features "Stick Dog," as protagonist, along with a crazy crew of canines buddies – Karen, the dachshund who chases her tail, Stripes, the dalmatian, Poo-poo, the poodle, and Mutt who is, "you know, a mutt." This follow-up to Stick Dog and Stick Dog Wants a Hot Dog is the perfect book for young readers who enjoy a good laugh, are fans of the silly, and love reading illustrated chapter books. A quick read, Stick Dog is also a worthy suggestion for reluctant readers and lovers of wacky adventure.
From the flap copy:
Is it a flying saucer?
Is it a Frisbee?
Or is it the best thing they've ever tasted?

Stick Dog and his crazy canine crew have discovered a newfangled flavor—and it's even more delicious than hamburgers and hot dogs. It's pizza! And they won't be satisfied until they get some slices of their own. But it won't be easy. There's a kitten to rescue, a plan to make, and the messiest—and most dangerous—game of catch they've ever played. Pizza is on the menu, but only if their mission succeeds.