Kids love to learn words and phrases in languages that are not native to them. These three picture books will help early elementary schoolers learn to pronounce and translate greetings and phrases in a variety of languages from around the world.
Madlenka by Peter Sis shows how one little girl explores a world of cultures just by walking through her New York City neighborhood. When Madlenka loses a tooth, she wants to tell all of her friends, including Mr. Gaston from France, Mr. Singh from India, and  Ms. Grimm from Germany. Each character greets Madlenka in his or her own native language, using their words for hello and their own special translations of Madlenka's name. The illustrations show flags and other imagery to reflect the culture of each character, making it easy to guess at each country before its name is mentioned. This book requires a little bit of practice to read aloud well, as pronunciations for the foreign phrases are not provided, but it's well worth the extra preparation to be able to share such a great story!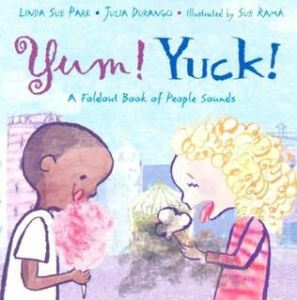 While it's nice to be able to say hello in other languages, it's even more fun to be able communicate beyond just a greeting. Linda Sue Park's picture book, Yum! Yuck! A Fold-out Book of People Sounds teaches readers how to express a range of feelings in a variety of languages. In this book, kids learn other languages' expressions for common English phrases like "Ah-choo!," "Yum" and "Boo hoo." Foldout flaps set the book up as a guessing game, where the foreign phrases are given first, and the reader must lift the flap to find out the English translation. The fun continues in a companion book Mung-Mung!: A Fold-out Book of Animal Sounds, which provides translations for the English expressions of animal sounds.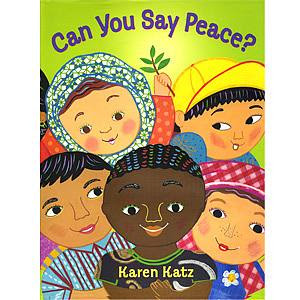 Another great word to learn in any language is peace. Can You Say Peace? by Karen Katz was written to help celebrate International Peace Day, which occurs every year on September 21. Using her characteristic artistic style – thick lines, bright colors, and bold patterns – she portrays eleven children from all around the world, representing countries such as India, Ghana, and Japan. The text consists of the word for "peace" in each character's language: Meena from India says "shanti;" Sadiki from Ghana says "goom-jiji;" Kenji from Japan says "heiwa." Each page shows a phonetic pronunciation for each expression, which makes it possible to read the book aloud without much advanced practice or any knowledge of the languages presented. This book makes a great introduction to international themes in story time or in the classroom.
Katie Fitzgerald holds degrees in English and library science, and has seven years of experience in public libraries. She blogs about books and library service to children at Storytime Secrets. Katie lives in Rockville, MD with her librarian husband and their new baby.