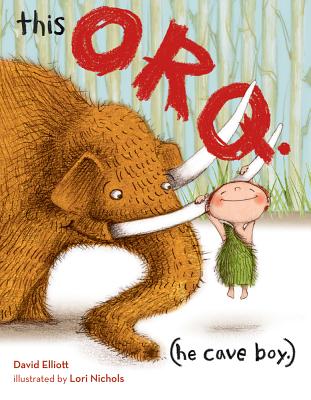 This Orq. (he cave boy.) written by David Elliott, illustrated by Lori Nichols (Boyds Mills Press, 2014) is the cutest-darn-story about two pals that I've seen in a long time . Elliott brilliantly captures the adoration and camaraderie between a boy and his pet wooly mammoth. Their friendship is utterly charming. Me like. Told in a caveman-like staccato rhythm and tone, it's infectious to read aloud. I have do doubt that children will be memorizing text and repeating phrases like, "Orq Love Woma" and "Poor Woma" and "Sabertooth love Orq but Woma love Orq more."
When Mom ousts Woma from the cave, Orq rallies to highlight Woma's endearing qualities. Orq has his friend's back! But unfortunately it's not enough to sway Mom to let Woma come home until Woma shows Mom just how far he's willing to go to protect the cave boy he loves so much.
Nichols' illustrations are playful, charismatic, and full of surprises for the reader. Elliott and Nichols are masterful storytellers, and I have a feeling we'll be seeing a lot more colorful adventures from Orq and Woma in the future. For ages 3+
David Elliott is a NY Times best-selling children's author. His many titles include And Here's to You!, The Transmogrification of Roscoe Wizzle and the award-winning series On the Farm/In the Sea/In the Wild and the newest title On the Wing. He lives in New Hampshire with his wife and loves to write books that are funny and feed the imagination.
Where did the inspiration for writing This Orq. (He Cave Boy.) come from?
I love the challenge of telling a story in the simplest possible language. Cavespeak seemed a natural. As for the story itself, the plot, I try always to be led by the language. The story of Orq and his pal, Woma, is what emerged, but only after many rewrites and a great deal of advice from friends.
Did you have a favorite pet growing up? Tell us about one of your favorite furry friends?
There is a picture of me at age of three or four with what looks like a wire-haired terrier mix sitting in my lap. Ever since then, I have loved the shaggy dog. Our current guy, is actually a Texan, a stray rescued from a shelter by Kathy Wetmore at the Shaggy Dog Rescue in Houston. He's perfect. His name is Quiggy (short for Queequeg, Ishmael's companion in Moby Dick), but our friends call him The Butler. We are in love with that little dog.
Seeing as the new school year is underway, can you tell us a little about your author visits?
Something happens to me when I step into a classroom or library full of kids. I can't quite explain what it is, but it might have something to do with the freedom of dropping all of the pretense required by adult life. Whatever it is, almost always, there is a kind of immediate understanding between the kids and me. This is something I treasure. In terms of content, I try always to tailor my visit to the needs of the classroom. Recently, I have been doing a lot of poetry workshops.
When you're not visiting classrooms or writing new stories, what do you like to do?
Oh dear, now I have to confess to my indolence. I do a bit of gardening. I love the movies. I cook. I read. I love to sing, so recently I have been learning the ukulele. But if you asked me if I had a hobby, I would have to say daydreaming.
Be sure to enjoy this Story/Activity Kit and take a peek at the book trailer, too!