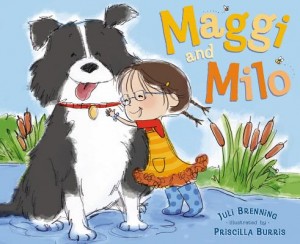 In Maggi and Milo debut author Juli Brenning and illustrator Priscilla Burris explore the pleasant bond of friendship and the angst that comes about when a special friend is nowhere to be found.
As the story goes, Maggi's grandmother sent a frog hunting kit as a gift. Maggi and her trusty pup, Milo, set forth on a frog hunting expedition. Their adventure is slow-going for quite some time, with nary a frog to be found. So much so, that Maggi becomes distracted and sings a song to pass the time away.
After a while, Maggi becomes truly panicked. She is alone at the pond. Milo is nowhere to be found. Eventually, she follows the sound of an interesting song to discover that Milo is happily surrounded by lots and lots of frogs! The pond is filled with friendly croakers, a cheerfully wet dog and the girl who loves him.
Enjoy the story in more depth by accessing the free, downloadable Discussion and Activity guide Juli has provided. Click HERE to access a number of lessons, all aligned with the Common Core State Standards. In addition, being that the author hails from Nashville, otherwise known as Music City, she gathered up her inner Maggi and recorded a song to celebrate this delightful story! Click HERE to access Maggi's favorite song. Be careful, it's catchy. You'll be singing along before you know it.