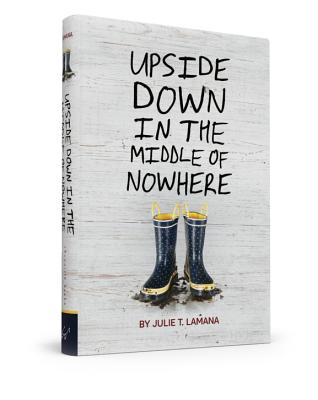 Upside Down in the Middle of Nowhere by Julie T. Lamana (Chronicle Books, 2014)
Armani Curtis is turning ten and it's huge deal, with a big cake, and a certain wrapped box. Then Hurricane Katrina hits New Orleans and the Lower Nines and everything, everything changes.
This moving story of courage and, ultimately, survival in the face of difficulty is one that doesn't gloss over the hard realities. Yet, it's full of hope and the incredible power of a love that somehow manages to deal, even when faced with tragic devastation.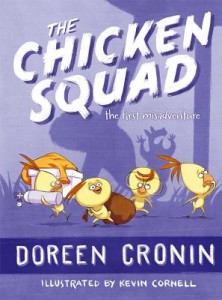 Chicken Squad by Doreen Cronin, illustrated by Kevin Cornell (Atheneum Books for Young Readers, 2014)
As the author of many best-selling picture books, Doreen Cronin is a familiar name (Diary of a Worm, Click, Clack, Moo).  Her newest, Chicken Squad is written for those kids who've moved up to chapter books.
Dirt, Sweetie, Poppy, and Sugar – from an earlier series about JJ. Tully – are the "shortest, yellowest, fuzziest detectives in town." Full of personality and spunk, the Chicken Squad makes for a laugh-out-loud, early chapter series that's even better in this new and highly illustrated format .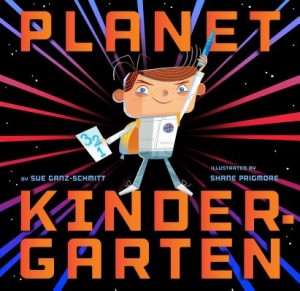 Planet Kindergarten by Sue Ganz-Schmitt, illustrated by Shane Prigmore (Chronicle Books, 2014)
It's not easy finding a "starting school" book that hasn't already been done. And then, along comes Planet Kindergarten. Bright illustrations and lively text were enough to capture the eye and ear of a certain preK student I know who gobbled the book right down and immediately asked to read it again. Kindergarten can be scary, after all, and the commander has a long and complicated flight plan: "I try to get used to the new atmosphere, but it's not like home. For one thing, gravity works differently here. We have to try hard to stay in our seats. And our hands go up a lot."
This book will have kids and adults wishing they were able to "boldly go where they've never gone before: Planet Kindergarten!"