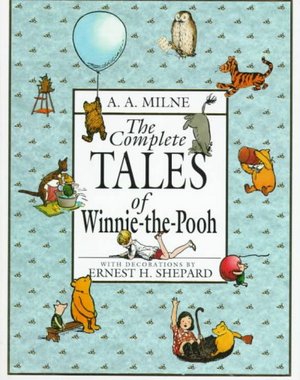 All month, the ReaderKidZ are recommending summer reads for kids grades K-5 and NPR's The Ultimate Back Seat Bookshelf: 100 Best Reads for Kids 9-14, (August 2013) is a great place to start if you're looking for a solid list of novels to choose from. Don't let the given age-range throw you. Many of the books are appropriate for a younger child, and some will make especially good read-alouds or audio books for the road.
For the picture book crowd, check out this short selection of new books.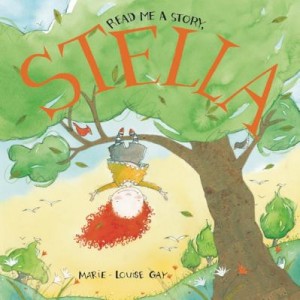 I've long been a fan of Marie-Louise Gay's  Stella books and Read Me a Story, Stella (Groundwood Books, 2013) is one of the best. Wherever Stella goes, little brother Sam goes too. Always, he's got questions, and Stella, being the good big sister that she is, patiently answers. Even when it means she has to put down the book she's reading.
When Fred, their dog, runs off with the kite string in his mouth, only to lose it minutes later, Stella is quick to comfort Sam.
"Will the kite get caught on a cloud?" cried Sam "Will it get burned by the sun?"
"Kites know their way around the sky," said Stella. "They ride the wind until they find their way home."
Watercolor illustrations capture the beauty of the the natural world and perfectly complement the tender relationship of the brother/sister duo.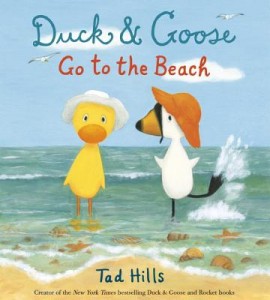 It's been 7 years since the last Duck and Goose picture book and Duck and Goose Go to the Beach (Schwartz & Wade, 2014) by Tad Hills was definitely worth waiting for.
From the flap: "Duck wants to go on an adventure. Goose isn't so sure. Together, the two feathered friends set off on a walk that takes them… all the way to a place they've never been – the beach!" But no sooner do they arrive that Duck starts having second thoughts. The beach is loud and he feels tiny next to SO MUCH water…
Text and illustrations capture the sweetness and humor of the relationship and adventures of these two completely opposite friends.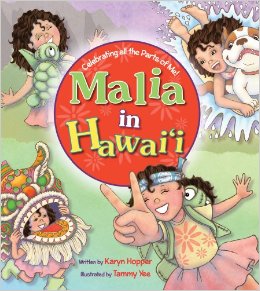 And finally, Malia in Hawai'i by Karyn Hopper, illustrated by Tammy Yee, celebrates the unique diversity of a little girl with a long name – Malia Sachi Ging Ging Lee. Readers will enjoy traveling with Malia around the island as she explores the fun and food of her Hawaiian home.