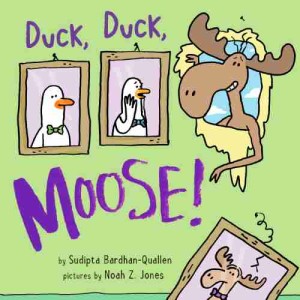 Summer reading is, for me, all about reading for pleasure. Don't worry about taking notes for book reports – just grab one of these titles, find a sunny spot, and enjoy!
For the youngest readers:
Duck, Duck, Moose! written by Sudipta Bardhan-Quallen and illustrated by Noah Z. Jones (Disney-Hyperion, 2014)  This super-silly book is great for new readers because the only words to decode are "duck" and "moose". Two tidy ducks live with an oddball moose (shown on the title page with underpants on his head.) Moose causes chaos for the ducks as they try to prepare for a party, but obviously the ducks love him anyway because the party is a surprise party for Moose.
For the transitional readers: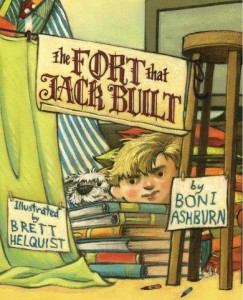 The Fort that Jack Built written by Boni Ashburn and illustrated by Brett Helquist (Abrams, 2013)  Ashburn takes the format of "The House that Jack Built" and deconstructs it, as Jack's cool fort is taken apart piece by piece (a towel-wrapped mom takes back the shower curtain, to Jack's dismay!) The ending is charming, and I love that it's the grandmother who ends up down on the floor sharing a new fort space with Jack.
For the older readers: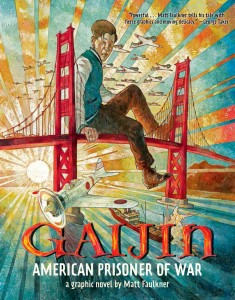 Gaijin: American Prisoner of War by Matt Faulkner (Hyperion, 2014) Koji's life as a typical 13-year-old in San Francisco is turned upside down after the bombing of Pearl Harbor. Because he is half-Japanese, he is considered a threat to national security and sent to an internment camp along with thousands of others of Japanese descent. The art in this coming-of-age graphic novel is absolutely stunning. Note: this reviewer is the President of the Matt Faulkner Fan Club as well as his wife.