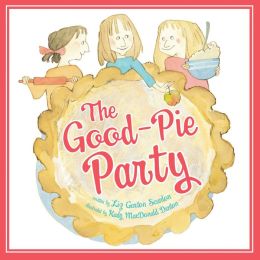 Moving is never easy for a child. The anticipation of loss can be overwhelming, most especially the loss of friendship. The fear of losing friends and the worry that, perhaps, the child might not find friends as dear as those she is leaving behind can be down-right depressing. The Good-Pie Party addresses these all-too painful issues in the most delicious way!
Liz Garton Scanlon's sparse, yet poignant, text is tenderly complimented by Kady MacDonald Denton's stunning watercolor illustrations. There is a resonant connection between the text and art, one that perfectly expresses the wide range of a child's emotional reaction to this life-altering event – moving. The Good-Pie Party is a celebration of friendship, community, laughter, love, and loss – a testimony that, under the light of the lopsided moon, true friendship knows no boundaries.
Click HERE to access a CCSS and TEKS aligned Readers' Theatre script and Curriculum Guide, complete with a special recipe for, you guessed it, PIE!