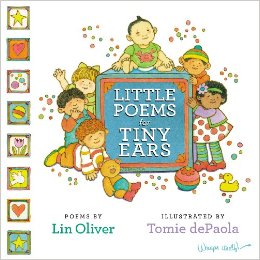 When my teenager was young, I wanted to share good poetry with her without taking away her choice of bedtime books, so I started, unintentionally, a strange tradition of reading to her from children's poetry collections while she took her baths. She was a dawdling bather and my only child at the time, so we were not often rushed. Now that she's buried in assigned high school reading, I share poems with her all too rarely – usually called out from my part of the house to hers. But I like to think that good poetry from bath times long-past never washes completely away. – Stephanie Parsley
For the youngest readers:
Little Poems for Tiny Ears by Lin Oliver, illustrated by Tomie dePaola. (Nancy Paulsen Books, 2014)
Twenty-three poems take readers and listeners many places familiar to babies, from stroller rides to the depths of the kitchen drawer, and touch on common objects and experiences such as noses, sneezes, and blankies. With beautiful illustrations by Tomie dePaola, Little Poems for Tiny Ears will enchant babies, toddlers, and preschoolers, who will see (and hear) themselves on the pages; and adults will not tire of reading the original rhyme aloud.
 I rattle pans and bang the pots
And make some noise … well … okay … lots.
(From "The Kitchen Drawer")
Without my blankie,
Me so cranky.
(From "Blankie")
In the Sea by David Elliott (Candlewick, 2012)
With bold, two-page, woodblock-and-watercolor illustrations by Holly Meade, this collection of 17 short poems about sea creatures offers much to savor. Simple rhyming language makes the collection friendly for young readers, while some of the poems contain verbal surprises and more complex vocabulary that will be appreciated by experienced readers – for example, apparition paired with magician in "The Octopus," and the metaphor "fair compass in a carapace" (which had me consulting my online dictionary) in "The Sea Turtle."
Words with Wings by Nikki Grimes (Wordsong, 2013)
This short novel in verse features Gabriella (Gabby), a daydreamer who has just moved to a new neighborhood and school after her parents' break-up. Simple words such as snowflake spark Gabby's daydreams and open windows connected to happier times, helping her deal with the difficulties in her life. Will Gabby's daydreaming get her into trouble with her new teacher and cause her to be the friendless "weird kid" – or will Gabby be discovered as the gifted poet she really is?
"Waterfall"
 Say "waterfall,"
and the dreary winter rain
outside my classroom window
turns to liquid thunder,
pounding into a clear pool
miles below,
and I can't wait
to dive in.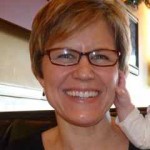 Stephanie Parsley Ledyard is a writer, certified teacher, and high-school library assistant who lives in Dallas, Texas with her husband, two daughters (ages 16 and 3), cats, and dog. She publishes her own poetry on her blog, Sparsely and has an MFA in writing for children and young adults from Vermont College of Fine Arts.